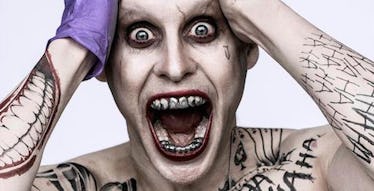 'Suicide Squad' Director Tweets Photo Of Jared Leto As The Joker
It's universally understood Jared Leto can pull off just about anything.
Though, when it was revealed he'd be playing The Joker in "Suicide Squad," the world couldn't help but wonder how anyone could follow up Heath Ledger's iconic performance in "The Dark Knight."
At least, late Friday night, "Suicide Squad" director, David Ayer, answered the question of what the new Joker would look like.
In celebration of The Joker's 75th year anniversary, Ayer tweeted a picture of what we can only assume to be the forthcoming film's version of Batman's greatest enemy.
The new Joker takes on a completely different look than Ledger's suited-up, scrawny, longhaired Joker. Leto's version looks a lot more like Billy Idol with metallic grills and tattoos.
It's certainly not what we're used to, but who says that's a bad thing?
The Suicide Squad wishes you a Happy Anniversary Mr. J! #Joker75 #SuicideSquad @WarnerBrosEnt @DCComics pic.twitter.com/LZXz0x947Q — David Ayer (@DavidAyerMovies) April 25, 2015
Citations: See first photo of Jared Leto as The Joker in Suicide Squad (Entertainment)