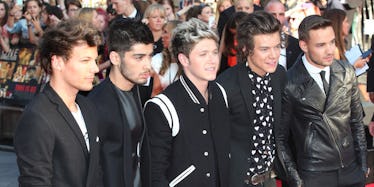 Every Member Of 1D Is Apparently Single, So Here's Who They Should Date (Photos)
Getty Images
It looks like the boys of 1D are all officially single and ready to mingle. Yup, every one of them. Even Zayn (RIP).
Apparently, Liam Payne and Sophia Smith split, so his single heart will join the rest of the members. I really hope Liam is OK.
He knows I'm here for him if he needs anything (really, Liam, call me).
Because I care about him so much, along with Harry, Louis, Niall and even Zayn, I've decided to do what I can to help them find their soulmates.
Perhaps dating someone will help Liam mend his broken heart. Honestly, I think all the members are just ready for some lovin'. Therefore, I've decided to play matchmaker and pair them up with the women I believe they should date. You're welcome, boys. No need to thank me.
I truly believe the women I chose are the best candidates and the people who will make the boys the happiest.
I understand my choices may upset some Directioners (look, they can't date all of us) but I hope you can see where I'm coming from and do your best to put their interests above your own.
You can check out the soon-to-be happy couples below. And maybe, just maybe, we can all score invites to the weddings.
Liam Payne and Victoria Beckham
I think it's a pretty well-known fact that Liam Payne bares a striking resemblance to David Beckham. Liam pretty much looks like a younger version of David with less tattoos.
Victoria would be great for Liam because she was in the Spice Girls, so she totally gets what the band life is all about. They could even do a duet together — just picture how magical that would be.
Also, it looks like Victoria makes David very happy, so she'd probably make Liam very happy as well. I'm sure she wouldn't even notice if we just swapped Liam into the picture. It just makes sense that they're together.
Congrats, guys!
Niall Horan and Ellen DeGeneres
Niall and Ellen would be perfect for each other because they both have the same haircut. If you squint your eyes, they kind of look like twins.
Sorry Portia, you're great and all, but I really think this is where Ellen's heart lies. Niall, I'm proud of you. Ellen's great.
Harry Styles and Queen Elizabeth II
Harry Styles is so perfect he deserves nothing less than the queen herself. The queen can probably give Harry everything he needs and more, like a great breakfast to start the day in the morning.
He probably also would sleep in a big, comfy, king-sized bed with sheets that have a super high thread count.
That would be perfect for him since his body should never touch anything that isn't made of pure gold. If Harry can't be God, he may as well be king.
Louis Tomlinson and Maria from "The Sound Of Music"
Louis needs a woman who can take care of him, especially now that he has a child in the picture. Maria from "The Sound Of Music" has a lot of experience with raising a family. She had like 23 kids or something. It took that lady four hours just to wish them goodnight.
Plus, Louis definitely would love to dance with her in the mountains. Ain't that right, Louis?
Zayn Malik and Adele
Adele is the only woman on this planet who can whip Zayn into shape. She just released the most beautiful single ever, so her heart is clearly still aching for love.
Adele's music is super emotional, just like Zayn's tweets. They've also made a lot of people cry, for different reasons, but still. Tears are tears.
I think the two of them would be perfect for each other, and if they performed together, it would probably be a sob-fest.
Let's just hope they don't break up or else the world would end. Literally.