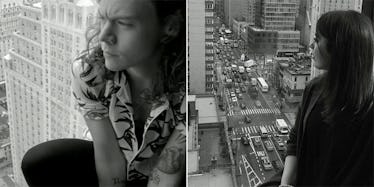 I Lived Every Fan's Dream By Sharing A Hotel Room With One Direction, Kind Of
Even though One Direction is currently on hiatus, the boys are still together in my heart.
Toward the end of January, Harry, Liam, Louis and Niall released a final music video for the song "History," and it was super nostalgic.
The boys sang together as throwback footage from their first days on "The X Factor" played throughout the song. It was emotional, to say the least.
Since then, the boys have been pursuing solo careers, and Louis also had a baby boy. I'm eager to see what the future holds for these guys, but I also can't help but hold on to the past.
While sitting in work one day reminiscing about the good times, my co-worker, Lydia, and I decided to watch our favorite One Direction music videos. Of course, "Perfect" was on the list.
If you consider yourself a hardcore One Direction fan, you already know what I'm talking about.
For those of you who need an extra reminder, check out the video below to jog your memory.
In the music video, Harry, Liam, Louis and Niall hang out in a hotel in New York City. They play golf and soccer, and things get a little crazy.
They also look very, very hot. LIKE DAMN. TAKE OFF YOUR SHIRTS. All right, all right, I'll calm down, sorry.
The whole video was shot in one day and took place right in Times Square.
Being the dedicated fans we are, Lydia and I decided to visit the actual hotel (and rooms) where One Direction shot the music video.
We were obviously very nervous, excited and overwhelmed.
I mean, we were going to sit where Niall Horan sat. We were going to touch the same bedding Louis Tomlinson felt. We were going to look out the same window as Liam Payne, and we were going to lie on the same couch as Harry Styles.
WE WERE BASICALLY GOING TO TOUCH THEM AND MAKE OUT WITH THEM AND DATE THEM. THAT'S WHAT WOULD HAPPEN THROUGH THE TRANSITIVE PROPERTY, IN A WAY, IF YOU REALLY THINK ABOUT IT.
So last Friday, we made our way to the InterContinental New York Times Square. We met with the hotel's communications manager, and she took us on our very own One Direction "Perfect" music video tour.
First, she sat with us to show us different scenes we could create. If we were going to do this, we had to do it right.
Then, we got right to it. Remember when Harry Styles sat ever-so-peacefully in this windowsill? He stared out into the abyss and contemplated his entire life, right in that moment.
So yeah, I did the same. That's me, just thinkin' about stuff.
The boys rode in this elevator and had the hotel's security guard open the doors.
We found him, and he helped us, too. THANKS, BUD!
Liam had lots of dramatic close-up scenes in the video. He was thinkin' about LOTS OF STUFF.
So was I.
Harry did some cool spins and sh*t. He's one active boy.
Same.
He also had this very deep, emotional moment where he stared at the ceiling and clouds circled him. Dreamy, right?
RIGHT.
Louis had some good shots, too, like when he ran through this kitchen and probably pissed off the staff.
WE ARE SUCH REBELS.
And Niall's eyes overlapped the New York City skyline. What a beautiful image.
We are so connected, it hurts.
Moral of the story: I lived every One Direction fan's dream, and it was the "perfect" experience.
Also, we're single, and so are Niall and Harry. You do the math. BYE!