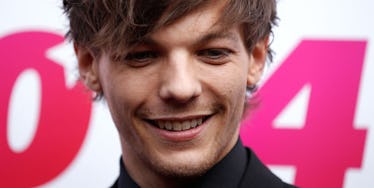 Louis Tomlinson Shares First Photos And Name Of His New Son
Getty Images
If you haven't heard by now, Louis Tomlinson from One Direction is a father. Yes, it's real. And yes, there's proof.
Back in July, the 24-year-old singer was rumored to be expecting a child with Briana Jungwirth, a Los Angeles-based stylist.
At the end of January, things became official when PEOPLE shared Briana and Louis welcomed a baby boy.
The One Direction fandom still had doubts, but then Louis confirmed the baby's arrival through a series of tweets.
ANYWAY, the day has finally come for us to FINALLY see what Louis' baby looks like! Welcome to the world, Freddie Reign.
We are so excited to have you.
ALSO, ISN'T HE THE CUTEST?
I wonder if he'll grow up to be just as talented as his daddy.
Congrats, Briana and Louis!