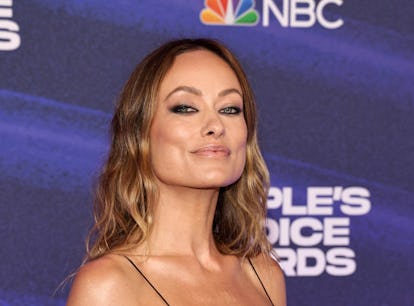 Olivia Wilde's Totally Sheer Dress Got Blurred At The 2022 PCAs
Todd Williamson/E! Entertainment/NBC/NBCUniversal/Getty Images
Well, it seems Olivia Wilde's sheer look at the 2022 People's Choice Awards had producers shook. ICYMI, the actor appeared at the star-studded event on Dec. 6, where she accepted Drama Movie of 2022 for Don't Worry Darling. With all the scandalous and drama-filled moments the film had this year, the win was well-deserved. However, before Wilde appeared onstage to accept the award, many viewers couldn't help to notice their screens were blurred once her dress was shown.
Just as Wilde graced the stage, TV producers briefly blurred out her appearance. In fact, they softened up the entire screen before immediately clearing the view as the actor began her acceptance speech. So, don't fret: you definitely didn't have bad reception when this moment happened.
It seems the spontaneous blur could've been a quick cover-up for Wilde's dress. According to Glamour, the actor wore a plunging, black grown from Dior's resort 2023 collection, which boasts sheer lacing throughout. Most notably, the lace detailing appeared on the top of the dress and revealed the actor's chest.
Though the bubbling drama surrounding Don't Worry Darling has stopped, this moment can definitely be added to the project's list. The blur happened rather quickly; however, Twitter's reactions were quicker. And like always, hilarious.
Just the thought of a group of producers scrambling to decide whether Wilde's dress was appropriate enough to show onscreen amused viewers.
No, but same. Who was the official person that decided to release the blur filter? Not for nosy reasons, of course.
OK, but Twitter user @SarahPenney47 is asking the serious questions here. Wilde appeared on the awarda show's red carpet in the same dress.
Seemingly similar to NBC's production team, some viewers weren't here for Wilde's dress.
It's a shame Wilde's dress received the blur treatment, because her fit was definitely a moment.