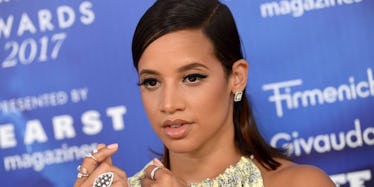 'OITNB's' Dascha Polanco Dishes On The Season: "I Feel Like I Shouldn't Judge Daya"
Shutterstock
It's always a surreal experience when the women behind Orange Is The New Black reveal something about their characters, and Dascha Polanco is the latest actress to give fans a behind-the-scenes scoop.
(Tread lightly if you're not all caught up.)
Season 4 left Polanco's character, Daya, holding a gun to a correctional officer amid a prison-wide riot. The actress spoke to Elle to shed light on the emotions she experienced while filming, why she thought she wouldn't return to the show, and what led to Dayanara's breaking point.
The actresses are given their scripts about a week before filming, and then it all starts from there.
"You're living as the character in the moment," Polanco said. "Daya has had such a storyline and it's relatable — especially with relationship dynamics. I feel like I shouldn't judge Daya. What I should do is make an example of her by bringing true emotions to her circumstances."
Holding the gun to Hump's head, things on the show didn't turn out the way the actress had expected them to. She had thought her character's typically reserved demeanor would lead someone else to pick up the gun before she could pull the trigger.
"I thought, 'I'm dead, this is the last season I'm in,'" the actress told Elle.
While struggling with the whereabouts of her daughter — something she hopes to uncover — Daya is undergoing huge mental distress, according to Polanco, which is why she believes the character pulled the trigger.
"A child grows inside of you, it's part of you. And for you to not be able to see the growth and not have a relationship, is tragic," Polanco said in the interview. "Daya has lost it all. So it was sad to see her shoot, but it was also understandable."
And something else to think about is the return of Bennett, the father of Daya's child, and support Daya would welcome, according to Polanco. He was last seen in season 3. 
While she was giving an emotional take on these episodes, Polanco's 24-year-old co-star, Francesca Curran, gave us a more visual look at her transformation into Skinhead Helen with a recent Instagram post.
She told Business Insider that she is a "girly-girl" and to be stripped of her usual characteristics and looks is pretty intense.
Orange Is The New Black is definitely not a show for the faint of heart, so seeing what goes into portraying these women — in comparison to the women actually playing them — always yields interesting results.