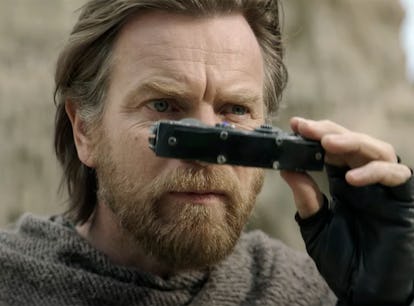 The Obi-Wan Trailer Introduces The Show's Villain And You'll Def Recognize Her
Time for a rewatch of The Queen's Gambit.
The road to the Disney+ show Obi-Wan Kenobi has been a circuitous one. As far back as 2014, Disney has been rumored to be working on a story centered around the character, with rumors first of a trilogy of movies and then a standalone "Star Wars Story" film. When Disney+ was announced, the rumors turned to a TV series, which Lucasfilm confirmed at D23 in 2019. Starring Ewan McGregor, who played the character in the prequel films, the Disney+ Obi-Wan Kenobi limited series is finally heading to a galaxy close to us in 2022.
Like Boba Fett, Obi-Wan has long been a popular character since the original 1970s-era films. Played then by the legendary Sir Alec Guinness, Obi-Wan was a complicated figure who famously told the truth "from a certain point of view." The prequels dramatized his backstory, starting with McGregor's much younger Obi-Wan as a padawan, who ultimately believes he can train a young boy named Anakin, despite everyone around him warning otherwise, only to see the boy grow up to be Darth Vader.
The new series promises to fill in some of the story between Anakin's fall at the end of the prequels and Obi-Wan's fateful meeting with Luke in A New Hope. Here's what's known so far:
All nine films in the Star Wars Skywalker Saga are streaming on Disney+, along with both Rogue One and Solo: A Star Wars Story. Both seasons of The Mandalorian and The Book of Boba Fett are also streaming now.
This article was originally published on