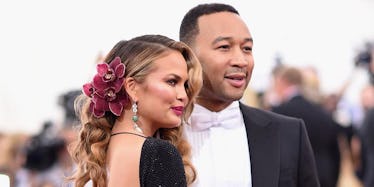 Obama Totally Approves Of Chrissy Teigen And John Legend's Baby Name
Getty Images
Tuesday night, Chrissy Teigen stopped by "The Late Show with Stephen Colbert" to discuss spring rolls and baby names, among other things.
As you likely already know, Teigen is currently pregnant with her and husband John Legend's first child together. Naturally, while cooking and chatting with Stephen Colbert, the topic of the baby's name came up. That's when Teigen made a major name drop, saying,
Actually, I asked Barack--
Yep, the Teigen-Legends are on a first-name basis with the president of the United States. After Stephen Colbert called her out on it, causing the whole audience to laugh, she went on, saying,
I asked President Obama if he liked one of our name choices and he said he did... I wanted to ask him because John isn't sold on the name... He said it's too Hollywood.
Well, if Obama can't get John Legend on board with a baby name, then nobody can.
Watch the video above, in which Stephen Colbert butchers a spring roll. And if you listen very, very closely, maybe you can hear what name Chrissy Teigen whispers in his ear.
Citations: President Obama Approves Of Chrissy Teigen's Baby Name Choice (BuzzFeed)