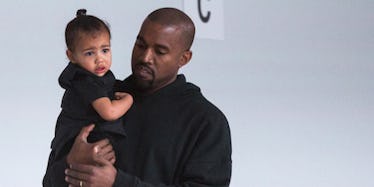 North West Did Something Unbelievable To Kanye's Original Raps From 'TLOP'
REUTERS/Lucas Jackson
North West is officially the most badass toddler in Hollywood.
I mean, girlfriend actually stole Kanye's iPhone, which had all his unfinished raps for The Life of Pablo, and flushed it down the toilet.
I honestly think only a 2-year-old would be brave enough to mess with Kanye West's music.
In this clip from a recent episode of "Kocktails with Khloé," Kim Kardashian West told John Legend and Chrissy Teigen the story of how her daughter totally ruined the first draft of TLOP. There was no way to get the songs back.
According to Kim, Kanye "didn't even get mad." I guess only his child could get away with a stunt like that without waking the beast. Maybe North West is the one who got the answers, Sway.
Either way, I feel like this might explain "Siiiiiiiiilver Surffffeeeeer Intermission."
Citations: Kanye West Lost All His Early Pablo Raps When North Flushed His Phone (TIME)