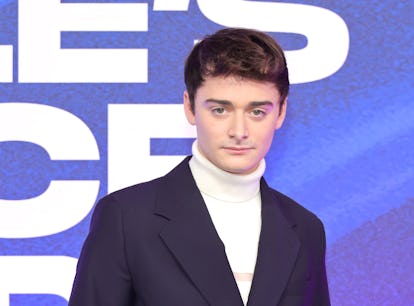 Noah Schnapp Came Out As Gay On TikTok
"I guess I'm more similar to Will than I thought."
Amy Sussman/Getty Images Entertainment/Getty Images
Noah Schnapp got candid about his sexuality on TikTok. On Jan. 5, the 18-year-old Stranger Things star posted a video about coming out as gay to the people closest to him, sharing their sweet (and slightly humorous) reactions. The video didn't just describe what it was like for Schnapp to come out — it also let his 31.4 million followers know that he's gay. And congratulations were definitely in order.
"When I finally told my friends and family I was gay after being scared in the closet for 18 years and all they said was 'we know,'" Schnapp wrote alongside his TikTok while mouthing the audio: "You know what it never was... that serious." He added a note about his Stranger Things character Will Byers in the caption: "I guess I'm more similar to will than I thought."
ICYMI, in July 2022, Schnapp confirmed his character was gay. He told Variety, "Now, it's 100% clear that he is gay and he does love Mike. Before, it was a slow arc." Discussing Season 4, Schnapp added, "I mean, it's pretty clear this season that Will has feelings for Mike. They've been intentionally pulling that out over the past few seasons ... Even in Season 1, they hinted at that and slowly, slowly grew that storyline. I think for Season 4, it was just me playing this character who loves his best friend but struggles with knowing if he'll be accepted or not, and feeling like a mistake and like he doesn't belong ... Will has never really found anywhere to fit in. I think that's why so many people come up to me and tell me that they love Will and they resonate with him so much, because it's such a real character."
As soon as he posted the video, Schnapp's comments section flooded with messages of support from fans and family. "NOAH IM SO PROUD," one fan replied to his video. Schnapp's sister, Chloe, wrote, "u r amazing." Famous TikTokers chimed in, too. Chris Olsen commented on the video, "welcome king." James Charles wrote, "proud of you Noah 🤍."