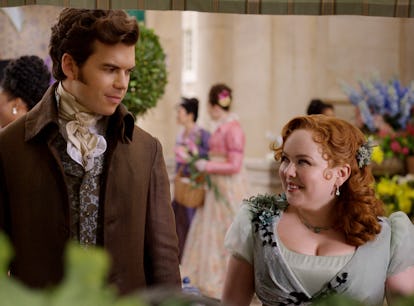 Nicola Coughlan Hinted At Colin & Penelope's Bridgerton Sex Scenes
Season 3 cannot come soon enough.
Courtesy of Netflix
Every season, Bridgerton brings the romance... and perhaps just as importantly, the sex scenes. There's still a lot fans don't know about the show's upcoming third season, which will follow the love story between Colin Bridgerton and Penelope Featherington. But during Netflix's Tudum: A Global Fan Event on June 17, Nicola Coughlan (who plays Penelope) gave some major clues about what's to come from Polin — even if she didn't let slip the show's release date.
During a red carpet interview with Cat Quinn, Coughlan played a word association game surrounding Bridgerton Season 3. First, she was asked, "What is the first thing that comes to mind when I say the word 'carriage'?" Coughlan's response: "Rocking." Then, when asked the same question, but for the word "mirror," Coughlan responded, "Oh, come on... Yeah, yeah."
If you haven't read Romancing Mr. Bridgerton (the fourth book in the Bridgerton series), these questions might seem confusing and random. Quinn was referring to very specific, intimate moments in the novel that Season 3 is based on, one involving a carriage and one involving a mirror (obvi). Without giving too much away, Coughlan's answers (plus, her blushing) seemed to confirm that fans will be able to watch both sexy scenes when Season 3 finally graces their screens.
So, what else can fans expect? In a different interview at Tudum, Coughlan explained, "Season 1 was about passion, Season 2 was about longing, and Season 3... I think it's romance all the way." She added, "There [were] a lot of moments on set where we'd film something and... like, turn around, and everyone would be sort of clutching their chest, being like, 'Oh my God.' It's that kind of love. It's really special, and it stays very true to the books."
While Shonda Rhimes continues to make everyone wait for the third installment of the show, it looks like now's the time to pick up a copy of Romancing Mr. Bridgerton — even if you just scan it for carriage and mirror scenes.