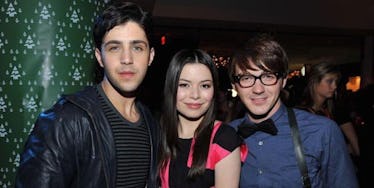 These Nickelodeon Stars Reunited And It Will Make You Seriously Emotional
GETTY
Well, amidst plenty of turmoil and drama between Nickelodeon stars (see: Josh Peck didn't invite Drake Bell to his wedding), it's nice to finally see a heartwarming headline.
It seems that over the weekend there was a bit of a mini-reunion between two Nickelodeon legends Josh Peck of Drake and Josh and Victoria Justice of Victorious. The two former Nick stars ran into each other in Hollywood at the grand opening of The Highlight Room at the Dream Hotel and (thankfully for us) stopped to pose for a pic with one another.
Honestly, put it in the MoMA. Justice uploaded the pic to her Twitter with the caption "This guyyyyyyyyy. Great seeing you @ItsJoshPeck," and now my emotions are all over the place (more than usual).
In case you were wondering if the former Victorious star's excitement was mutual, Josh Peck retweeted the pic with his own caption, "Got me right in the childhood, great seeing u!"
Naturally, because this is the internet and we can't have nice things here, some people attacked Justice after she posted the pic, assuming this was her way of dissing another Nickelodeon alum, Drake Bell, following the wedding drama between him and Josh Peck.
I'd like to interject here by saying, let's not ruin a beautiful, nostalgic moment intended to make us smile by trying to stir up drama that doesn't exist anymore. Especially since Drake himself said that "there are no hard feelings" between the brotherly duo. Justice simply saw an old friend, took a pic with him, and made millions of people smile by sharing it with us. End of story (for now).
Now, on the other hand, if there's one thing the internet is good at, it's begging for reunion shows. Obviously, I think it's high time we start vying for a Drake and Josh/Victorious reunion/mash-up special. Maybe if we're super lucky Miranda Cosgrove will make an appearance as Megan (or as iCarly, either way, I wouldn't be mad).