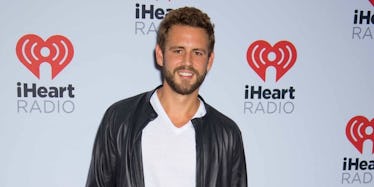 First Look At Nick Viall As 'The Bachelor' Is Better Than Any Halloween Treat
REX/Shutterstock
It feels like just yesterday Ben Higgins broke JoJo Fletcher's heart and set off into the sunset with Lauren Bushnell, but believe it or not, "The Bachelor" is back, baby!
ABC just released a video giving us a first look at Nick Viall as "The Bachelor," and let me tell you, after watching the clip, it feels like someone definitely turned up the heat in my office.
I know it's Friday, and everyone's getting ready to get sloshed and dress up like god knows what for Halloween, but I guarantee this first look at Nick Viall is the best treat you're going to receive all weekend.
Without further ado, I give you your new "Bachelor," Nick Viall.
I told you that shit was going to get you amped!
For those of you wondering, this is the 21st season of "The Bachelor."
You're probably already familiar with Nick Viall from his time on this past summer's "Bachelor In Paradise," as well as the fact he's a two-time runner-up on "The Bachelorette."
So, will Nick find love for real this time around? I really hope so. I mean, there's no reason this good-looking, single dude shouldn't be able to find the woman of his dreams this season.
Perhaps the fourth time really is a charm! Find out how Nick Viall has been faring as #TheBachelor: https://t.co/lfWyrJnEil pic.twitter.com/LqpcHZxchG — Us Weekly (@usweekly) October 26, 2016
As you can see at the end of the ABC promo, Nick Viall's season of "The Bachelor" kicks off in January, so at least you'll have something to keep you warm during the long, cold winter ahead.
Nick Viall Is The Next Bachelor And I Can't Stop Screaming - https://t.co/uHCRZQi7EN pic.twitter.com/dFhKaOu6Ez — Life Hacks (@amazinglifegags) October 16, 2016
You might think Viall jumped at the opportunity to find love again, but that doesn't appear to be the case. Speaking on his decision to become the next "Bachelor," Viall said,
I was very nervous, but it took me a couple of days. I told them I had to think about it. I didn't have a lot of time to think about it because they didn't ask me too long ago. But it took me a couple of days. It's a huge responsibility, but it's obviously an amazing opportunity, so ultimately, I accepted.
Best of luck to you, Nick. We'll all be watching in 2017.
Citations: It's Here! Get Your First Official Look at Nick Viall in Action as the New Bachelor (E! News)