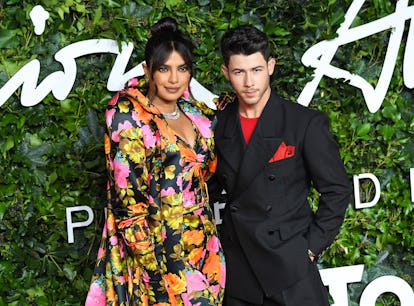 Nick Jonas & Priyanka Chopra's Baby's Name Is So Adorable
The couple welcomed their first child in January.
Stephane Cardinale - Corbis/Corbis Entertainment/Getty Images
It's been three months since Nick Jonas and Priyanka Chopra announced they became parents, but their child's name is only now being revealed. A source close to the couple confirmed to Elite Daily on April 21 the stars named their daughter Malti Marie Chopra Jonas. TMZ first reported their child's name on April 20.
When the couple announced on Jan. 21 that they had welcomed their first child through surrogacy, they did not reveal details around Malti's identity, including her name, birthday, and gender. TMZ reported the same day as their announcement that the couple had welcomed a baby girl.
According to TMZ, who reportedly obtained her birth certificate, Malti Marie was born shortly after 8 p.m. on Jan. 15 at a hospital in San Diego. The news outlet also said Malti is a general Sanskrit name that means moonlight or small fragrant flower.
The couple announced the arrival of their baby girl in matching Instagram posts on Jan. 21. "We are overjoyed to confirm that we have welcomed a baby via surrogate. We respectfully ask for privacy during this special time as we focus on our family. Thank you so much," they wrote.
Of course, fans were overjoyed for Chopra and Jonas, especially because the couple had publicly stated they wanted to expand their family. In January of last year, Chopra told The Sunday Times, "I do want children, as many as I can have."
The star also told E! News the same month that family "is a big part" of her life and growing her family has always been a dream. "I'll take what I get, you know? Leave it up to the God almighty," she said.
In February of last year, Extra also asked Jonas who would have "naming rights" to a future child with Chopra. The singer responded by saying, "We'd be blessed with any child, son or daughter or anything...I'm sure her mother will want to weigh in and my family would want to weigh in, too," he said. "But just knocking wood that it happens."
About a year later, it certainly did, and the rest is history.