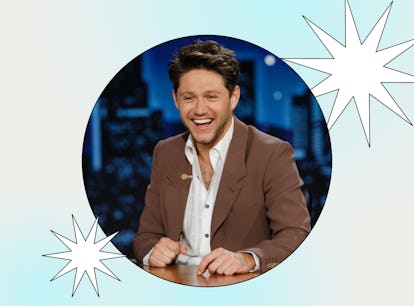 Niall Horan's "Heaven" Will Make You Revisit 1D's Greatest Love Anthems
Randy Holmes/Disney General Entertainment Content/Getty Images
Niall Horan is daydreaming about romance. On Feb. 17, the former One Direction singer released "Heaven," the lead single from his forthcoming album The Show. On this track, Horan takes listeners on a honeyed trip down lovers lane. He's smitten over his new partner, as they've showed him a love so angelic that it would make heaven blush.
"Heaven," the singer's first single in three (!) years, is a taste of The Show, out June 9. Horan's known for penning love songs over alt-pop production. However, for this release, he tapped into a folkier-pop sound with the help of producer Joel Little and co-writers John Ryan and Tobias Jesso Jr. This arrangement glistens with synths and drum patterns inspired by the '70s, and it compliments just how freeing the lyrics are. According to Horan, this track is about him wanting to live in the moment of a growing relationship.
"There's so much pressure for people to hit certain milestones by a certain age – you get married at this age, buy a house at that age, have kids at some other age," Horan said in a press release. "But I've never conformed to those ideas, and so I wanted to write about how we all should just focus on enjoying our lives and doing what feels right, instead of worrying about what might be expected of us."
Coasting in with airy harmonies, Horan begins the track adoring his partner. To him, her presence emanates such an aura that it's almost ethereal. "Strange light revolves around you / You float across the room / Your touch is made of something / Heaven can't hold a candle to / You're made of somethin' new," he sings.
Horan cherishes this relationship so much that he doesn't want to complicate it by living through society's rules. Sure, he's infatuated with her, but he's not looking to move fast or settle down quickly. He wants to steadily build with her, and that reality becomes pungent as he nears the end of the first verse.
Built on thumping percussion and Haron's lush vocals, he then delivers an earworm chorus that's reminiscent of Coldplay: "God only knows where this could go / And even if our love starts to grow outta control / And you and me go up in flames / Heaven won't be the same."
Throughout the rest of the tune, Horan seemingly admits he's become obsessed with his partner. However, that awareness doesn't frighten him. He unabashedly revels in this newfound feeling, largely because he knows she feels the same way. While many would dream witnessing a love like this, there's a chance Horan could be pulling from personal experience.
According to People, the singer has been dating his girlfriend, Amelia Woolley, since early 2020. They've mostly kept their relationship out of the public eye; however, they made their first public appearance in September 2021 at a London charity event hosted by Horan. If the singer is taking inspiration from his relationship, then he's certainly ascending into a new realm of love.
Check out the full lyrics to "Heaven" below via the singer's official lyric video on YouTube.
Verse 1
Strange light revolves around you
You float across the room
Your touch is made of something
Heaven can't hold a candle to
You're made of something new
Let's not get complicated
Let's just enjoy the view
It's hard to be a human
So much to put an answer to
But that's just what we do
Chorus
God only knows where this could go
And even if our love starts to grow out of control
And you and me go up in flames
Heaven won't be the same
Verse 2
I'm having revelations
You dance across the floor
Beyond infatuation
How I obsessively adore you
That's what I do
Pre-Chorus
I believe, I believe
I could die in your kiss
No, it doesn't get, doesn't get
Better than this
Chorus
God only knows where this could go
And even if our love starts to grow out of control
And you and me go up in flames
Heaven won't be the same
God only knows where this could go
And even if our love starts to grow out of control
And you and me go up in flames
Heaven won't be the same
Pre-Chorus
I believe, I believe
I could die in your kiss
No, it doesn't get, doesn't get
Better than, better than this
Chorus
God only knows where this could go
And even if our love starts to grow out of control
And you and me go up in flames
Heaven won't be the same
God only knows where this could go
And even if our love starts to grow out of control
And you and me go up in flames
Heaven won't be the same