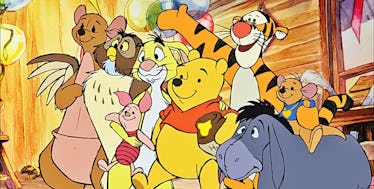 There's A Brand New 'Winnie The Pooh' Character In The Hundred Acre Wood
Walt Disney
When I was little, "Winnie the Pooh" was my all-time favorite show.
I loved following the adventures of Christopher Robin, Pooh Bear, Tigger, Piglet, Eeyore and the rest of the gang.
A few years ago, Walt Disney Animation Studios returned to the Hundred Acre Wood and created the first "Winnie the Pooh" movie in almost 35 years.
I was overwhelmed with serious nostalgia watching Pooh Bear on the big screen. LOOK AT HOW CUTE HE IS!
It was amazing to see the greatest part of my childhood redone and revamped for new generations of children to experience as well.
But the fun doesn't stop there, Pooh fans. A sequel is on its way, and I couldn't be more excited. According to EW, there's also a new character joining the Hundred Acre Wood.
HELLLLZ YEAHHHHH.
On Monday, Penguin Young Readers announced a penguin named "Penguin" will be joining the group. Got all that?
Penguin will make his debut in a 90th anniversary sequel called "The Best Bear in All the World" and star in a story called "Winter: in which Penguin arrives."
The inspiration to create Penguin came to author Brian Sibley from a photograph of A.A. Milne and his son (Christopher Robin) playing with a penguin toy next to Pooh Bear.
GENIUS.
This sounds great and all, but how the heck will a penguin survive the heat of the Hundred Acre Wood? Doesn't he need like, icebergs and shit?
I guess we'll find out soon enough. Good luck out there, Penguin. I'm rooting for ya.
Citations: New "Winne The Pooh" Character (Entertainment Weekly)