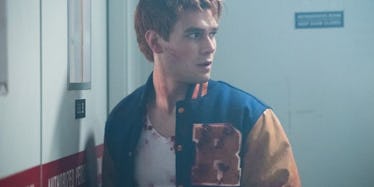 This Detail In The New 'Riverdale' Trailer May Prove Archie's Dad Is Still Alive
The CW
We're still a couple of weeks away from the premiere of Riverdale Season 2, the breakout hit based on the Archie comics on The CW. The show is looking to make a splash when it comes back on the 11th and from the looks of the brand new trailer, there's plenty to get excited about, including the possibility that we'll see the survival of Archie's Dad in Riverdale Season 2.
I know, Riverdale fam, this seems like a bit of a shocker. After all, Archie's dad was presuming to be dying. Back in the Season 1 finale, Fred Andrews (played much to my amusement by Luke Perry) was shot in Pop's Diner, leaving Archie frantically trying to get medical help, even as his father's life seemed to be slipping away.
For most fans, we assumed that was working to set up Season 2's mystery: Who killed Fred Andrews? At the time, executive producer Roberto Aguirre-Sacasa teased that we'd find out more when the show returned in this fall:
We don't know everything that happened in that diner in the finale. In our first episode back in our premiere, we're back in that diner and seeing everything that happened in that diner with Fred and Archie and that gunman and poor Pop Tate who's also traumatized by the events. It's really a psychological exploration of Archie after that as well.
Check out this trailer, then:
Here we thought that Archie would be dealing with grief... but what if Fred isn't actually dead? What if he was just mostly dead, and now the mystery is "who is trying to kill Fred?" Note the sound effects under the soundtrack. That's not the long beep of the dead. That's the short beep of a beating heart.
So what were the producers hinting at when they said this would become a revenge story, and that this was "much like Bruce Wayne and Peter Parker in that it does pivot towards heroism and there are definitely hero moments for Archie"?
Could the trailer be trying deliberately to get our hopes up that Fred will survive, and his return is like that of Tywin Lannister in Game of Thrones Season 5 -- to lie around on tables and be presented for funerals? And how will Archie's mom (Molly Ringwald) react to all this?
While we ponder these unknowables, let's run down some of the other trailer highlights:
When we last left Jughead, it was looking like he might have joined a gang called the Southside Serpents. Exactly how Betty was going to take that move was unclear, but in the trailer fandom's favorite Bughead couple is looking as strong as ever.
Then there's Archie. When he's not sitting around looking glum or begging his mom to come swooping to the hospital because his dad is dying, he's... banging Veronica. That might be very awkward since her dad Hiram Lodge (played by Kelly Ripa's husband, Mark Consuelos) is apparently going to turn up this season, and promises to turn things upside down.
He's not the only one from Veronica's life that's going to be underfoot. Earlier this summer it was revealed that Veronica's ex-boyfriend Nick St. Clair (played by The Good Wife's Graham Phillips) is also going to be turning up to make things difficult.
There's also nothing in the trailer about Cheryl Blossom burning down her family's home, but that's more a sideshow distraction anyway. For those itching for more footage, here's the San Diego Comic-Con trailer from this summer.
Life in Riverdale is never boring at any rate. And that's not even counting next year's Sabrina The Teenage Witch spin off...
Riverdale returns with Season 2 on Wednesday, Oct. 11 at 8 p.m. ET on The CW.