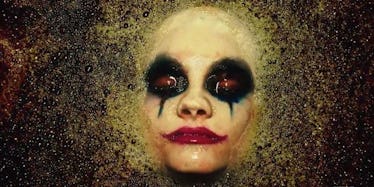 New 'American Horror Story: Cult' Teasers Have Fans Screaming
FX
American Horror Story: Cult is getting fans hype for its September 5 premiere the only way American Horror Story knows how: with really creepy promos! This week the show's official account tweeted out some new American Horror Story: Cult teasers, and in addition to the clown imagery we saw in the trailer, Ryan Murphy has given us a new thing to fear: bees! Naturally, fans are already obsessively trying to figure out what it all means.
In addition to the trailers that American Horror Story dropped on its official YouTube page last week, the official American Horror Story Twitter page has been posted a new creepy clip or poster every day. Most recently, on Friday, fans got a 15-second clip of a woman walking through a giant honeycomb while hands reach out and grab her. (If you have trypanophobia, aka the fear of clusters of small holes like honeycombs, this might not be the American Horror Story promo or season for you.) The clip ends with the girl reaching out, with a hexagon drawn on her hand — a symbol that definitely seems like it's going to be important this season.
On Thursday the show also gave fans a peek at the official American Horror Story: Cult poster which features — you guessed it — honeycombs. The golden poster depicts a deathly pale woman with her head cut open. But instead of a brain, there's a big ol' honeycomb in her skull. Is anyone else getting major Jupiter Ascending vibes?
And of course, let's not get caught up in the bee-ness of it all and forget about those creepy clowns. On Thursday, fans also got yet another clown in the form of a 10-second teaser clip, in which a clown face emerges from some bubbly green liquid.
So bees and clowns, huh? Season 7 of American Horror Story is shaping up to be very disturbing indeed. Although, some fans on Twitter have their own idea of what they think the "bee" imagery actually stands for. Lemonade, anyone?
Hey, Lady Gaga was in Roanoke, so anything is possible! (Though we probably would know by now if Beyoncé was actually in this season, of course.) Find out what all those bees and clowns are up to when American Horror Story: Cult premieres Sept. 5 on FX.