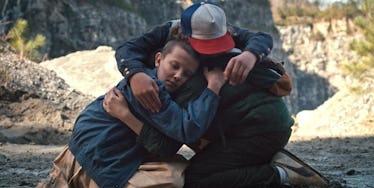 Netflix Is Low-Key Studying Your Binge-Watching And Understands Your Soul
Netflix
While you're watching Netflix, it's watching you. Creepy, right?
It's actually nothing too sinister, we're not talking NSA-level surveillance here.
But Netflix has been studying viewing behavior in order to get a better idea of when people get hooked on a show.
It just released data on when viewers went from sorta into it to totally addicted on a number of shows available on the streaming service.
In other words, Netflix knows exactly when you fell in love with "Stranger Things," and it can tell you exactly when Pablo Escobar's insane life-story completely captivated you via "Narcos."
Here's how Netflix determined this: It looked for the episode from which 70 percent of viewers went on to complete the first season of that particular show.
Netflix didn't just limit its research to the US either -- it looked over viewing habits on six continents.
It found shows like "Stranger Things" had people hooked by the second episode, while shows like "Gilmore Girls," which isn't quite as suspenseful, took seven episodes for people to really commit.
Speaking on this research, Cindy Holland, Vice President of Original Content at Netflix, said,
We've always believed there is a universality to great stories. The Internet allows us to share these stories with a global audience and what we see from the data is how similar our members watch and respond. The hooked findings give us confidence that there is an appetite for original and unique content all over the world, which is why we're excited to deliver variety in stories to our members, whether they're political dramas from France or musical dramas from the Bronx.
Between incredible original series like "Narcos" and "House of Cards" and deeply impactful documentaries like "Winter on Fire: Ukraine's Fight for Freedom," Netflix has definitely become a dominant entity in the entertainment industry.
Its subscribers have clearly been very pleased lately.
Netflix knows what the people want, and all this research obviously helps a lot in that regard.