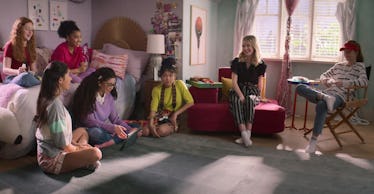 The Baby-Sitters Club's Season 2 Trailer Is Here And It's So Pure
The friendships! The nostalgia!
NETFLIX © 2021
In a year when apocalyptic entertainment has felt a little too topical for comfort, the arrival of Netflix's The Baby-Sitters Club was a welcome one. Based on the beloved tween novels from the 1980s and 1990s, the simple adventures of Kristy Thomas (founder and president), Mary Anne Spier (secretary), Claudia Kishi (vice president), and Stacey McGill (treasurer) was a welcome reprieve. But considering how many shows Netflix has canceled in 2020, fans worried the series might not survive. Thankfully, Netflix's The Baby-Sitters Club Season 2 is a go, and fans are ready for more adventures.
The first season of The Baby-Sitters Club was something of a "greatest hits" of the book series. From the opening "Kristy's Great Idea" to an updated take on "Mary Anne Saves The Day," the series found ways to take the original 80s-set material and make it work for the 2020s.
Moreover, unlike some teen-set shows on Netflix (hello, Stranger Things), these weren't kids dealing with stuff far beyond their paygrade. Their issues were many of the same problems viewers remember having at that age. There was something warm and fuzzy about going back to when the biggest problems in life were too-strict parents and a rival babysitting agency stealing clientele. No wonder fans were anxious for more.
Luckily, they're getting it, and even better, the premiere is coming just in time for fall.
The Baby-Sitters Club Season 1 is streaming on Netflix.
This article was originally published on