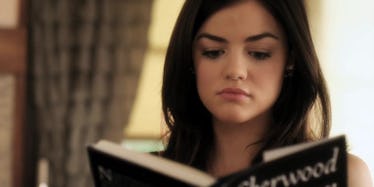 10 Mystery Books To Read To Help You Get Over The 'Pretty Little Liars' Finale
Freeform
All the juicy drama of Rosewood is officially gone, so where can Pretty Little Liars fans turn to for their edge-of-your-seat murder mysteries now? It's time to crack open a book or two... or 10.
PLL fans know the hit show started out as a book series, and since then, murder mystery novels have grown into one of the most popular book genres on the shelves, many of which find themselves adapted into their own TV shows or movies.
So instead of spending all your time trying to make sense of that strange A.D. reveal or rewatching your favorite old episodes of Pretty Little Liars in its pre-time jump glory days, I'd like to recommend you jump into a whole new delicious, page-turning whodunnit.
And if your curious where to begin, digital library Scribd is here for you! The site put together a list of its 10 most-read thrillers and murder mysteries to keep you gasping and theorizing for months to come.
Check out the suggestions below:
Into the Water by Paula Hawkins (audiobook)
The Passenger by Lisa Lutz (ebook)
What She Knew by Gilly Macmillan (ebook)
Big Little Lies by Liane Moriarty (audiobook)
The Girl on the Train by Paula Hawkins (audiobook)
Pretty Girls by Karin Slaughter (ebook)
Dragon Teeth by Michael Crichton (audiobook)
Dark Matter by Blake Crouch (audiobook)
The Couple Next Door by Shari Lapena (audiobook)
The Magpie Murders by Anthony Horowitz (audiobook)
Not surprisingly, Scribd's list includes two super buzzy mystery novels that turned into must-see shows and movies recently: Big Little Lies and The Girl on the Train.
But the number one book to get into is Paula Hawkins's latest thriller Into the Water, which immerses readers in a town where a river has mysteriously claimed the lives of two women.
And the best part of this murder mystery list is you don't have to drive to the bookstore to pick up these novels. Scribd is offering Elite Daily readers a 90-day free trial of their online library so you can read all these thrillers for free! Just go to Scribd.com/promo/EliteDaily to redeem your free 90 days of reading.
After the trial ends, you can continue using Scribd for $8.99/month if you choose to.