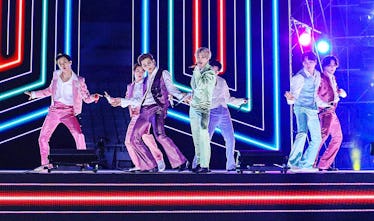 From BTS ARMYs To Arianators, Here Are 5 Streaming Party Apps That Actually Work
AMA2020/Getty Images Entertainment/Getty Images
Now that it's easier to listen to music on platforms like Spotify and Apple Music, many fans aren't buying physical albums, making streaming a huge factor when it comes to charting high on the Billboard charts. Fans of BTS, Ariana Grande, Taylor Swift, and Beyoncé all have super-engaged fans who strive to stream their music as much as possible to help their fave chart. If you're wondering how they do it, they use these five apps for streaming parties, which allow them to gather fans together so they can listen to music at the same time.
When tours got canceled in 2020 amid the carona outbreak, it prevents fans from seeing each other in person. Thankfully, they had apps like Vertigo and Rave to help them connect virtually. Although nothing can replace singing your favorite songs with thousands of strangers in a stadium, streaming apps allow for a different type of music experience right from the comfort of your own home.
Depending on the app, you can listen to music with your closest friends or with anyone in the world. You can also recommend songs to each other, find new artists to listen to, and support your favorite artists in the process. If you're ready to start connecting with other fans, try these five apps for streaming parties.
Happy streaming!