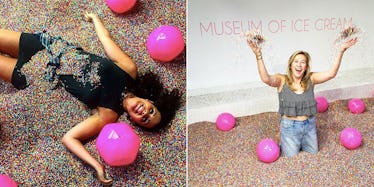 These Are All The Glorious Things You Can Do Inside The Museum Of Ice Cream
Instagram
If you're lucky enough to live in New York this summer, I'm sure you already have the Museum of Ice Cream down on your bucket list.
If you haven't heard about this ~new addition~ to the city, then you're in for quite a treat. (LOL treat, get it?)
The museum, which opens on July 29, lives in the heart of Manhattan's Meatpacking District. It's basically paradise for your sweet tooth and a candy land for the sugar-obsessed.
The museum is only open for a short period of time, however, so if you aren't able to make it to the Big Apple in the next few months, you're probably gonna miss out.
Have no fear, though! If you can't make it (or, if you're planning on going and want a sneak peek), we've got you covered.
Elite Daily's Social Editor Lydia Mansel and I were able to check out the Museum of Ice Cream before it opens to get the inside scoop. (LOL SCOOP, GET IT?!)
To put it simply, visiting the museum was probably the highlight of my summer. It was basically a giant playground filled with ice cream, candy and endless Instagramable opportunities.
Lydia and I ditched work (SORRY EVERYONE!) to go eat ice cream and check out NYC's newest museum.
As soon as we entered the building, this nice lady gave us a scoop of ice cream! TWO MINUTES IN, AND I'M HAVNG THE TIME OF MY LIFE.
She let us try the Blue Marble Organic Vanilla flavor. FANCY AF. Sprinkle some Froot Loops on dis shit.
I didn't eat my second lunch yet so I was really hungry. YUM, IT HIT THE SPOT. I'll take eight more scoops, please.
We learned some cool facts about ice cream along the way. There were cool signs and awesome wallpaper. It was pretty sweet. (SWEET, GET IT?)
The first room we entered was the Cone Room. A cone expert gave us edible helium-filled balloons. I'm not joking. LISTEN TO HER TALK!
All you do is suck in the helium and eat the sugar. I was a pro at this, it's whatever.
Lydia was a different story. Somebody help this girl.
Seriously, though, I'm great. (I'M ALSO KIDDING, ROAST ME.)
The museum also had art made out of real cones. IT'S EDIBLE. EVERYTHING IS EDIBLE!
Then we met this guy, and he taught us how to scoop ice cream like a bo$$. He said it's about the motion, not how strong you are. TAKE NOTES, KIDS.
After, we got to put our scoop in a giant bowl to help build the biggest ice cream sundae ever. Watch me slam dunk this shit. Nothing but net.
The nice man told us the museum already reached 1,000 scoops, but the goal is to get 30,000 total. DO YOU KNOW HOW MUCH ICE CREAM THAT IS?!
Next, we entered the Chocolate Chamber. Sounds dirty, right? It isn't.
The entire room smelled like chocolate, and there was a chocolate fountain! There were also little chocolates you could eat, so I filled up my purse with them. (Don't tell anyone or you're dead to me.)
THEN WE CAME ACROSS THE BEST THING IN THE ENTIRE WORLD: The Sprinkle Pool.
We got to roll around in 11,000 pounds of sprinkles because why not? AM I IN HEAVEN?
You should honestly go just to get a great pic for Instagram. Seriously, I look like an ice cream model.
Lydia's came out cute, too. Aw.
There was candy everywhere. We went ham, obviously.
And there was more art.
Ugh, we are soooo artsy.
Next, we took part in The Taste Trip Ice Cream Experiment.
They gave us this candy to eat and told us it would change the way we taste food. After it dissolves, it makes sour things taste sweet.
We put it to the test by eating ice cream with a lemon. If the candy worked, the lemon would taste sweet. TIME TO TRY THIS PUPPY OUT.
Yup, the lemon tasted hella good. I can confirm the mysterious candies work. Don't take candy from strangers, kids, but do take it from this museum.
At the end of the museum, there was this cool ice cream sandwich swing. Don't stand on it, though. Lydia got yelled at.
THE BEST IS SAVED FOR LAST. There was a freaking ice cream scooper seesaw. Dreams really do come true!
I suggest you get your butt to the Museum of Ice Cream ASAP, so you too can take the greatest Instagram pics of all time.
Follow Elite Daily on Snapchat (EliteDailySnap) and Instagram for more fun stuff like this.