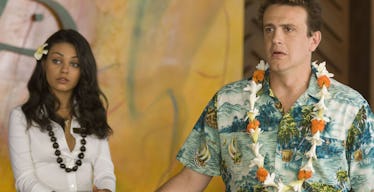 #Feelings: 8 Movies That Will Make You Feel Better About Your Breakup
Universal Studios
Breaking up is hard, probably one of the hardest things a person can go through.
The world seems dark and life seems to have no meaning at all. Your energy is drained and sunlight seems like your worst enemy.
If you're having trouble leaving your couch after a breakup, I have the solutions.
These movies are bound to cheer you up.
They'll make you laugh and cry so much, you'll forget the asshole who just walked out of your life -- at least for a couple of hours.
So grab a blanket and a tub of Ben & Jerry's, and get ready to watch these eight movies that will make you feel better about your breakup.
1. "Bridget Jones's Diary"
If there is one person who can make you feel better about yourself, it's Bridget Jones.
Her infallible awkwardness and psychotic thought process makes her both relatable and surprisingly inspiring.
While I won't spoil the movie, I will tell you that her heart is broken by a guy who makes her feel worthless and inferior to him, something I think a lot of people can connect with.
Boy, does she prove him wrong.
2. "Legally Blonde"
Elle Woods should be a role model for all of us.
Rather than feeling sorry for herself after a breakup, she goes to Harvard Law and makes the biggest comeback of all time.
Elle Woods shows us heartbroken gals how to come out of a breakup stronger and better than ever before.
3. "500 Days of Summer"
Although from the very beginning of the movie, the audience is warned that this is not a love story, "500 Days of Summer" captures the raw reality of love and relationships.
"500 Days of Summer" shows us just how complicated love can be and why you shouldn't blame yourself.
Sometimes, things just don't work out.
For anyone who's given more than they've received in a relationship, this movie is for you.
4. "Heathers"
This movie is a little different from the ones I have previously mentioned.
Less centered on the aftermath of a breakup, this movie shows us the horrors of a bad relationship and makes us feel a whole lot better about the scumbags we probably dated.
It reminds us just how good it feels to get out of a relationship that doesn't make you happy anymore.
5. "Under the Tuscan Sun"
What better way to get over a break up than moving to Italy and buying a villa in Tuscany.
This one has us dreaming of the grass that is said to be greener on the other side.
Frances Mayer, played by the talented Diane Lane, teaches us how to bring the good out of any bad situation.
6. "Forgetting Sarah Marshall"
This one is sure to make you smile after all of your tears.
Our hearts melt for Jason Segel in this role, and have us both laughing and crying for him.
This is a great watch for anyone who's ever been cheated on, and reminds us there is someone better out there waiting.
7. "Kill Bill"
This is the greatest revenge movie of all time. But please, for the love of God, don't take any inspiration from it.
8. "Sex and the City"
Even if you haven't watched the television series, this is a great movie for anyone who's ever felt betrayed by his or her significant other.
It's both heartbreaking and heartwarming, and will give you a new perspective on your old love that maybe you didn't see before.
And don't forget to call your best friends.
This movie shows us that love is all around you, even when you feel like it's not.