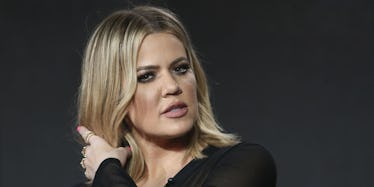 Here's The Motivation You Need To Get Back To The Gym, According To Khloé K
REX
It's almost summer, and nearly everyone I talk to has been telling me he or she is in a bit of a gym rut.
Trust me, I've been there. There's nothing worse than getting on the elliptical for the fifth time in a week in your tattered gym shorts from high school and resigning yourself to 45 minutes of boredom.
Luckily, Khloé Kardashian is here to help.
The reality star, who recently dropped about 40 pounds thanks to her love of fitness and healthy food, now has an official app to help you kick-start your fitness journey.
Khloé K doles out awesome advice on which accounts to follow for inspiration, healthy cookbooks to buy and fitness products that will have you looking and feeling awesome at the gym.
Want a sneak peek? Here are some of the products Khloé recommends on her app:
Gwyneth Paltrow's new cookbook, "It's All Easy"
IVY PARK Stretch-Jersey Sports Bra
Nike Pronto Essential Crops
Inspired yet? Thought so. And if you need another reason to use Khloé's app, she told Shape magazine having cute gym clothes is one of the best motivators for her to keep exercising.
She said,
When I buy a cute outfit, I'm super excited to go to the gym the next day. And when I look good at the gym, I'm inspired to do an extra squat or an extra lunge. Just because you're going to work out, you don't have to look like a slob. I also always wear hoop earrings; they're like my security blanket. People laugh at me, but why not? They make me feel more dressed up. I also wear makeup when I work out. I put on a tinted moisturizer, mascara, and cherry lip balm, and fill in my eyebrows. If I feel cuter with a little lip color and mascara, why should anybody else care?
Preach, Khloé.
Citations: The Ultimate Fitspo Starter Kit (Khloé)