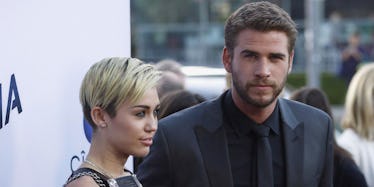 Miley Cyrus And Liam Hemsworth Posed For Selfies At 'The Huntsman' Premiere
REUTERS/Mario Anzuoni
Miley Cyrus and Liam Hemsworth are officially back together, and my heart couldn't be happier.
The pair called off their engagement in 2013, but they rekindled the flame this year and are now engaged for a second time. Yes, all is right in the world.
The other day, the couple was spotted together for the first time since their re-engagement, which was BIG NEWS. It basically confirmed the two are an item, in case you still had doubts.
Now Miley and Liam have been seen together again, but this time it was at the premiere for "The Huntsman: Winter's War" to support Liam's brother Chris.
The two didn't pose together on the red carpet for the premiere, but they did take selfies with at least one fan.
Kayla Hockman, who is a PR assistant according to her Twitter bio, tweeted the photos she took with the happy couple.
See, I can't make this stuff up.
Miley and Liam kept their relationship on the DL these past few months, but it looks like they're slowly coming back into the spotlight.
The couple stayed for the screening, but they reportedly dipped out as soon as it was over. They were apparently holding hands, too. One source told Us Weekly,
They were smiling and looked happy to be together.
OMG, MY HEART IS BURSTING.
Now all they have to do is make another movie together, and my life will be complete.
Citations: Miley Cyrus and Liam Hemsworth At Movie Premiere (Us Weekly)