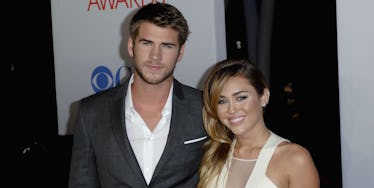 Liam Hemsworth Just Revealed The Real Reason He Broke Up With Miley Cyrus
REX/Shutterstock
In 2013, Liam Hemsworth and Miley Cyrus went through the most traumatic breakup of all time.
When the couple split, the world was left devastated. I still have tears in my eyes just thinking about it.
This story does have a good ending, though.
It's been reported Liam and Miley are officially back together. PRAISE BE THE LORD! The lovebirds have been spotted several times together going on cute dates and gettin' lunch and stuff. Yup, it's adorable.
This month, Liam is on the cover of GQ Australia and opened up about his relationship with Miley for the cover story.
Although he admitted he's "not engaged," he didn't deny their rekindling. Discussing where he and Miley currently stand, Liam told GQ,
People will figure it out, they already have... They're not dumb.
BINGO. THEY ARE DATING AND IN LOVE AND GETTING MARRIED AGAIN. ALL IS RIGHT IN THE WORLD. He also shared the reason they actually broke up in 2013, so that's pretty juicy stuff.
The 26-year-old actor told the magazine,
Of course it was hard, man. But at the time we were going in different directions and it's just what needed to happen. We were both super young and it was a good decision at the time — we both needed that.
DOESN'T THAT JUST BREAK YOUR HEART? I guess it makes sense, though. The two did get engaged when Miley was only 19.
Long story short, Liam and Miley are meant to be together forever. Now BRB, gonna go watch "The Last Song" and cry.
Citations: Liam Hemsworth Miley Cyrus break up (E Online)