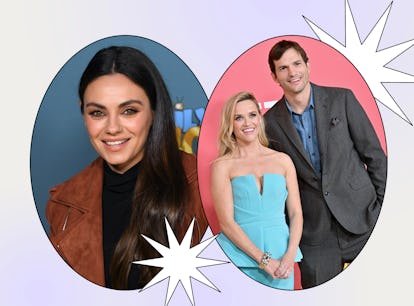 Mila Kunis Called Out Ashton & Reese's "Awkward" Red Carpet Chemistry
Their Your Place Or Mine press photos have gone viral for the cringiest reason.
Steve Granitz/FilmMagic/Getty Images, Axelle/Bauer-Griffin/FilmMagic/Getty Images
Everyone loves a little flirty moment between co-stars, especially when they're promoting a romantic movie. Oscar Isaac's smoldering chemistry with Jessica Chastain had the internet in a chokehold, and Timothée Chalamet's fun back-and-forth with Zendaya in interviews may have been even more entertaining than Dune. But Ashton Kutcher and Reese Witherspoon didn't get the memo. At the premiere of their rom-com Your Place or Mine, Kutcher and Witherspoon kept a bit of distance on the red carpet, and the photos quickly went viral as fans cringed over their awkward poses. Turns out, Kutcher's wife agrees with fans: Mila Kunis called out Kutcher and Witherspoon's red carpet pics along with the rest of the world.
Ever since the Feb. 2 red carpet event, photos of Kutcher and Witherspoon have blown up on the internet with people joking about their lack of chemistry. Even Kutcher's own wife couldn't resist getting in on the fun, bringing up the awkwardness to Kutcher and Witherspoon herself. "She even emailed us last night," Witherspoon said of Kunis during her Feb. 6 appearance on Today. "She goes, 'You guys look so awkward on the red carpet together.'"
Witherspoon and Kunis are longtime friends, but Witherspoon admitted she didn't know Kunis' husband as well until they started working on Your Place or Mine. "It's just fun 'cause when you know a girlfriend so much, it was just fun to get to know her significant other 'cause I've loved her for so long," Witherspoon said on Today.
Kutcher also revealed Kunis confronted him and Witherspoon about their awkwardness. "My wife called me — she texted Reese and I together and she's like, 'Guys, you gotta act like you like each other,'" he said during his Feb. 7 appearance on the Chicks in the Office podcast. "And I'm like, 'What is going on?'"
Kutcher explained that he intentionally kept his hands off Witherspoon in order to avoid generating any rumors of an affair. "If I put my arm around her, and was like all friendly with her, I'd be having an affair with her, like that would be the rumor," Kutcher said. "If I stand next to her and put my hands in my pockets, so there's no chance that could be the rumor. The rumor is that we don't like each other."
Kutcher went on to point out the difficulty of posing for red carpet photos, emphasizing how many photos are taken from all angles for several minutes. "If you're gonna tell me in that entire 20-minute period, at one point, you're not gonna have awkward face on, then you're better than I am and I'm cool with that," Kutcher said.