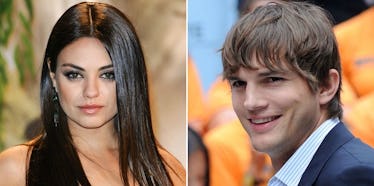 Mila Kunis Gets Real About How Her Relationship With Ashton Kutcher Started
Shutterstock
Mila Kunis and Ashton Kutcher started out as everyone's favorite couple on "That '70s Show" before eventually graduating from an on-screen relationship to the real deal years later.
For a refresher, check out the hilarious, nostalgic clip below.
So, how exactly did the couple's relationship go from a nightly TV sitcom to real-life?
According to ET, the 32-year-old actress sat down for an interview on SiriusXM's "The Howard Stern Show" and revealed exactly how her relationship with Ashton Kutcher actually came about. It turns out that Kunis and Kutcher originally started out as friends since starring on "That '70s Show." After running into Kutcher back in 2012, Mila and Ashton had agreed to test their luck and be "friends with benefits."
We, oddly, both did a movie called -- I did Friends With Benefits, he did a movie called No Strings Attached. If we just paid attention to these movies, we should know that shit like this does not work out in real life. Well, we clearly didn't pay attention. We shook hands, we're like, 'Let's just have fun!' I mean, literally we lived out our movies. We literally just had a very open conversation.
Well, clearly Mila and Ashton's masterplan never really worked out. The couple ended up running into each other yet again at an award show where 38-year-old Kutcher was supposed to link Kunis up with a friend of his.
Only that never happened. Instead, he decided to rekindle their flame for himself.
So, I went over, long story short -- I didn't leave 'till the next morning. And that was the first time, ever, that I'd ever slept over when I was single... at a guy's house.
Howard Stern then mentioned Demi Moore, saying,
I thought he was going to go on a mad tear after he broke up with Demi.
To which Mila responded,
You and I both, Howard! So, then we end up having a lot of talks about how this is a huge mistake, and how he needs to be single and I need to go and be single.
After on-and-off flings with different people, Mila revealed that their mutual honesty is what kept each other involved in the complicated relationship.
We were always very open with one another. Whoever was in our so-called stable, or whatever you want to call it. I was like, 'I'm gonna go see my friend.' And he was like, 'ugh...'
After a few more ugh-inducing scenarios, Mila Kunis and Ashton Kutcher decided they both wanted to be exclusive.
In a past interview with Glamour, Kunis revealed,
There's nothing we don't know about each other because we've known each other for so long: the ugly, the bad, the good. We went through a period where I thought he was crazy. At the height of his career, I was like, 'Ugh, I don't like you. I don't even know you anymore,'… then we'd get back together and be like, 'Oh, sorry. I didn't mean to overreact.' It truly is being married to your best friend. That's a cliché; it's cheesy. But it's true.
Well, friends, Mila and Ashton's relationship is proof that things might not always seem like they're working out in the beginning, but if it's true love, you'll both eventually come to your senses and realize you should just be the Jackie and Kelso you were always meant to be.
As of now, the couple (who got married last July) has a 1-year-old daughter named Wyatt. Mila Kunis is currently pregnant with their second child.
Citations: Mila Kunis Spills All the Juicy Details on How She and Ashton Kutcher Got Together: We Started Out as Friends With Benefits (ET)