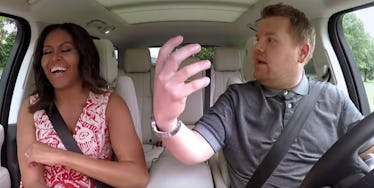 Michelle Obama's Epic 'Carpool Karaoke' Had One Very Special Guest
YouTube
We're done.
Michelle Obama would have been enough. But James Corden treated us to the First Lady AND Missy Elliot on his latest "Carpool Karaoke."
Yeah, you heard that right. The "Late Late Show" host really pulled out all the stops for this one.
He rolls up to the White House and gets buzzed in by security for a tour when FLOTUS slides into the passenger seat.
"Hey there," says Michelle. "I hear you've got a 1:45 tour and I've got a little time on my hands, so you wanna go for a spin?"
James pulls this face:
He quizzes her on everything from her newly debuted Snapchat account to her Secret Service code name (it's "Renaissance" and Barack's is "Renegade" -- how cool is that?).
They duet Stevie Wonder and Beyoncé's "Single Ladies." Michelle kills it, and says the two were "makin' honey."
Who says that?! I love it.
It's all too much. THEN MISSY ELLIOT DROPS IN. The surprise guest pops up in the back seat to sing "This Is For My Girls" and then "Get Your Freak On."
Watching Michelle rap "spit it out, in your face" is everything.
WHERE DOES "CARPOOL" GO FROM HERE!?