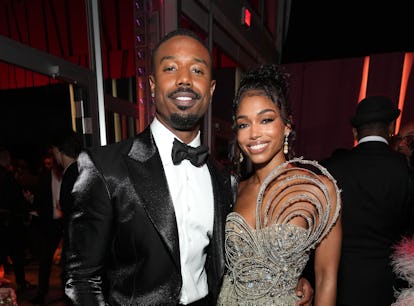 Oof, MBJ Deleted All His Pics With Lori From Instagram
I guess it's really over.
Kevin Mazur/VF22/WireImage/Getty Images
OK, OK, I know that technically Michael B. Jordan and Lori Harvey's breakup has already been pretty much confirmed. I mean, Steve Harvey did talk about it openly, after all. (He's team Lori, obviously.) Still, is it bad that I was kinda hoping that this was all a big misunderstanding? I know that Lori deleted all of her IGs with MBJ on June 5, but he kept his up! Plus, they never issued a public statement about their breakup. So maybe Lori was just embracing a ~hot girl summer~ Insta aesthetic? Unfortunately, on June 21, Jordan deleted all pics of Lori from his Instagram, further confirming the breakup. And yes, I'm gonna need a minute to recover.
MBJ's Instagram was already pretty sparse, making his Insta-scrubbing even more noticeable. Now that he's deleted the Lori pics, he only has 24 posts total. Although it's sad to see the photos go (I mean, really, was there ever a more attractive couple?), getting rid of them does kinda make sense — at least, according to reports of their split. After over a year together, the duo was reportedly "completely heartbroken" over their breakup. "They still love each other," a source told People on June 4. (TBH, I wouldn't want to be reminded of that level of heartbreak every time I opened IG, either.)
According to reports, it wasn't that Michael and Lori fell out of love with each other; they were just ready for different things. A source told Entertainment Tonight, "Lori and Michael broke up recently. They were at different stages in their lives." Based on these sources, it sounds like Michael was ready for a more serious commitment, and Lori just wasn't there yet. "[Lori] wasn't ready to commit. She is very focused on her career," the insider told People. (The model is 10 years younger than Michael, BTW.)
I guess it just wasn't meant to be. And although I'm going to be holding a small funeral for the gorgeous MBJ-Lori pics lost, I totally support doing whatever you need to move on post-breakup — even if that means scrubbing your Instagram for all signs of your ex.