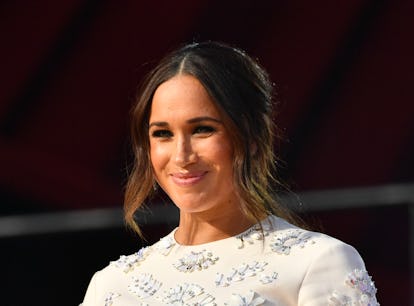 Meghan Markle Praised Ketanji Brown Jackson's Historic Supreme Court Nomination
"Judge Jackson's nomination has opened new ground for women's representation."
NDZ/Star Max/GC Images/Getty Images
Meghan Markle is proud to see Judge Ketanji Brown Jackson nominated to the Supreme Court. The Duchess of Sussex shared her thoughts with Anita Hill about Brown becoming the first Black woman nominated to the nation's highest court. Markle's comments were made public on Feb. 28 in an op-ed Hill wrote for URL Media. What they both had to say was so moving.
"The civil rights history of tomorrow is being written today," Markle said. "Judge Jackson's nomination has opened new ground for women's representation at the highest level of a judicial system that for too long has tilted against the very community she hails from."
Hill's op-ed and Markle's comments come just days after President Biden nominated Jackson to the Supreme Court on Feb. 25. A month earlier, Justice Stephen Breyer announced he'll retire in June following nearly three decades of service. According to AP, Jackson was once a clerk for Breyer.
A White House statement announcing Jackson's nomination last week noted Biden sought a nominee with wisdom, an unimpeachable character and a view of the Constitution "as an enduring charter of liberty," among other qualifications.
"For the millions of young women who will rightfully find inspiration from this moment, let's remind ourselves that Black achievement is something that exists not just today or yesterday, and not just in moments of celebration, but as a fabric woven into the entire chronicle of the American story," Markle also told Hill.
Hill celebrated Jackson's nomination in her op-ed by also highlighting the importance of diversity in the Supreme Court. "A Black woman on the Court, as with all diversity, has potential to expand the judicial imagination to include new ways of thinking about fairness and justice as delivered through the law," Hill wrote. She noted that she believed in a court that "reflects America" and "can respond to calls from populations marginalized because of their identities."
"[I] felt grateful to have witnessed another glass ceiling that was shattered in my lifetime," Hill wrote.
If confirmed, Jackson would be the first Black woman to sit on the court in its 232-year history.