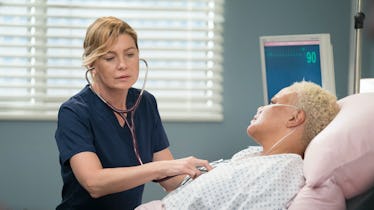 26 Medical Shows Like Grey's Anatomy To Heal Your Soul
It's a beautiful day to watch TV.
Eric McCandless/Walt Disney Television/Getty Images
Look, no one is denying Grey's Anatomy is one of a kind. The ABC hospital drama has stood the test of time with its combination of intense emergency scenarios, interpersonal conflicts, and steamy sex scenes... but it's not the only show with these elements. If you're looking for even more medical content — or if you're preparing for the moment Grey's finally comes to an end — there are a bunch of other medical TV shows like Grey's Anatomy deserving of a spot on your radar.
If you're a fan of the actual medical cases from Grey's, you may enjoy the more raw looks at IRL hospitals in documentaries like Netflix's Lenox Hill or NY Med. If you're more into watching the juicy drama that unfolds on the hospital floors between doctors, something like Private Practice or General Hospital might be more up your alley. If you're looking for something to distract you from the heartbreak constantly dealt out on Grey's, then Scrubs might be your jam — but fair warning, even though Scrubs is a comedy, it can hit you in the feels sometimes too.
While Grey's Anatomy has secured a spot as one of the leading medical shows of its time, there are plenty of similar options that you may end up liking even more than Grey's... or at least just as much. Here are 21 medical shows worth checking out, many of which are available with a streaming subscription service or for purchase on popular platforms.
This article was originally published on