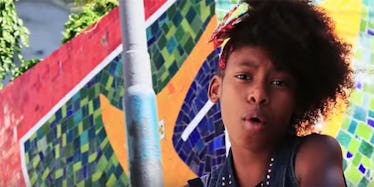 You Need To Hear 12-Year-Old Olympic Performer MC Sofia Rap
YouTube/MC Soffia
The summer Olympic games in Rio might not have started, but we already know who one of the stars of the show will be.
Her name is MC Soffia, and she's a hip-hop artist from São Paulo. At only 12 years old, she will be performing at Friday night's opening ceremony.
While most of us might not be able to relate to the experience of getting so much exposure while still being so young, people can definitely relate to the simple themes in MC Soffia's music.
I chose rap because you can express yourself, tell people what you are feeling, talk about the reality you are living. But I do like other styles too.
She describes one of her most famous tracks, "Menina Pretinha" -- which translates to "Black Girl" in English -- as one about gender equality and racism.
The video for the song shows off her sense of flair.
MC Soffia is one of many performers who, despite all being notable, come from many different walks of Brazilian life.
Supermodel Gisele Bündchen will be involved, for example. And then, there's the scheduled performance from Gilberto Gil and Caetano Veloso, two musical legends who were arrested and exiled from Brazil when the South American country was under the rule of a military dictatorship.
Gil and Veloso will perform alongside 23-year-old singer Anitta, who has won multiple MTV Europe awards.
The most novel participant, though, is Lea T, a transgender Brazilian model.
In an interview with BBC Brasil, Lea T said,
All of us, independent of gender, sexual orientation, color, race or creed, are all human beings and are part of this society. My role in the ceremony is tiny, but will be significant for representation, and will help to transmit this message.
With such a diverse set of performers, that message should be heard loud and clear.
Citations: Guardian, MTV Brasil, Rio2016.com