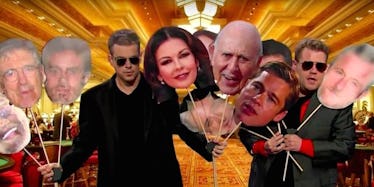 Matt Damon Acts Out His Legendary Movies Roles In Under 8 Minutes (Video)
It's probably marked on your calendar, but just a friendly reminder Matt Damon's new movie, "The Martian," comes out this Friday.
In honor of the release, Damon went on "The Late Late Show with James Corden" and acted out scenes from some of his most famous films.
The skit opens with Damon and Corden acting out a quick scene from "Good Will Hunting." From there, the duo goes on to recreate pretty much everything from "The Departed" to "We Bought A Zoo." They do all of this in under eight minutes.
We not only get to  revisit some of Damon's greatest films, but we also see him and Corden dress up in hilarious costumes.
Let me just say, Corden really knows how to work a wig.
Be sure to check out the full clip above to get your daily dose of Damon.