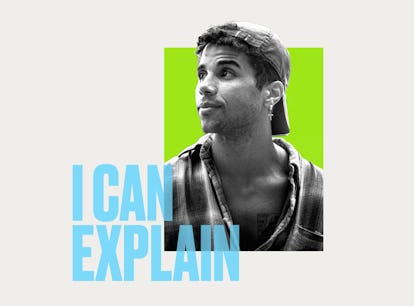 Love, Victor Star Mason Gooding Opens Up About, Well, Pretty Much Everything
The story behind how he got his puppy will make you cry.
Mason Gooding
In Elite Daily's I Can Explain… series, we're asking celebrities to revisit their most memorable photos and tell us what really went down behind the scenes. In this piece, we chat with Love, Victor star Mason Gooding about three of his most meaningful Instagrams.
Love, Victor's Mason Gooding is no stranger to the spotlight. His last name alone probably clues you into the fact that he grew up going to red carpet events. (ICYMI, his father is Academy Award winner Cuba Gooding Jr.) But while some kids of celebs may have trouble living in their parents' shadow, Gooding credits his dad for helping him come into his own and shaping the individual he is today.
"[My dad] always instilled in me the idea that you are who you are, and that is what you have to offer people. You can't change, you can't lie, and you can't deviate from who you are, so don't feed into some idea of what people expect of you," Gooding tells Elite Daily. "He was most concerned with making sure I felt normalized in any walk of life or career path that I chose — I wanted to be a fireman for a little bit."
Ultimately, Gooding, 24, chose a similar path to his father's: setting the big and small screen on fire. Prior to his current role as Andrew in Love, Victor, you've probably seen Gooding as Jeb in Netflix's holiday movie Let It Snow or Nick in the 2019 hit Booksmart. Although he mentioned he's "wildly excited" about his upcoming role in Scream 5, he's tight-lipped on any details about the movie.
But Gooding isn't afraid to let his fans into most of the other aspects of his life via social media. Below, he opens up about some of the most meaningful photos on his Instagram. Warning: Major feels ahead.
This interview has been edited and condensed for clarity.
Love, Victor Season 2 is streaming on Hulu now.