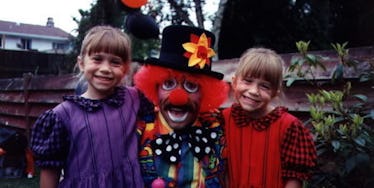 The Olsen Twins Starred In The Greatest Halloween Movie Of All Time
Dualstar Productions
Guys, we did it. We made it to October.
It's officially the month of apple picking, pumpkin carving and covering houses with Halloween decorations. It's finally acceptable to start costume shopping, eating candy corn and binge watching Halloween movies.
Of course, there are hundreds of great Halloween movies to choose from. There's "Hocus Pocus" and "Casper." There's "Halloweentown" and "It's the Great Pumpkin, Charlie Brown" (that's my mom's favorite). But honestly, there's really no better movie than Mary-Kate and Ashley's "Double, Double, Toil and Trouble."
"OMG, YES," you're probably thinking. I know, it's a CLASSIC. If your memory happens to be a little foggy, let me take a moment to remind you why this movie is the winner.
OK, first off, the twins do literally every Halloween activity possible.
From apple bobbing to pin the tail on the donkey, the twins have the best Halloween party ever. You can't help but be jealous of their fun.
There's this awesome gravedigger who tells them the story that gets the ball rolling.
This guy is so goofy and a real treat to watch. Just look at him. He tells the girls all about Agatha and how she's super evil. He mentions Agatha has a twin, too. OoOo spooky. We love you, gravedigger man.
So yes, there are two sets of twins in this movie. It's double the fun, get it?
Both of these ladies may or may not be played by Cloris Leachman.
There's this moonstone gem thing that looks pretty cool...
You know the first time you saw that necklace you wanted it for yourself.
...and a clown named Oscar who's a total bo$$.
The first thing Oscar does in the movie is judge a pumpkin carving contest, so you know that means he's chill. He also ends up helping the girls so YAY OSCAR, you the bomb.
There are pumpkins carved to perfection.
Are you kidding me right now, Olsens? You guys are like 6, how did you carve those pumpkins' faces so perfectly?
AND REAL. LIFE. MAGIC.
I'M SERIOUS, look at what that wand can do.
There's also some lady chilling in a mirror...
Because of magic, duh.
...and there are super deep black and white flashbacks.
Yo, Mary-Kate, is that you? Whatcha doing with those bangs, girl?
So there's all this sh*t going on... and then the plot twists. Lots of them.
The plot is so intense you won't even want to leave your seat to pee or get popcorn. Plus, cookies literally save the day. What's more perfect than that?
Finally, there's the most touching, beautiful ending in the history of endings.
It brings a tear to my eye every goddamn time. This movie clearly has it all. If you want to have the best Halloween of your life this year, stay in and watch this movie.
OK, OK, go trick-or-treating first, and then watch this movie. Just remember to make your popcorn before it starts. Trust me.