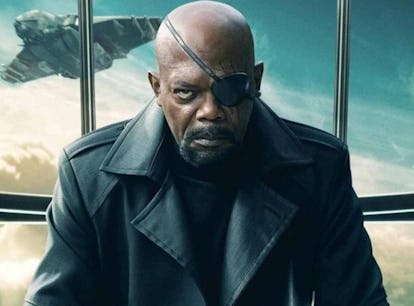 The First Trailer For Marvel's Secret Invasion Brings Fury Back To Earth
One might say he's... furious.
Marvel
Since the Skrulls were introduced to the Marvel Cinematic Universe in Captain Marvel, fans have been anticipating the MCU adapting one of its most famous comic runs: Secret Invasion. The story of the Skrull takeover of Earth was a massive bestseller when it debuted in 2008. But it turns out the story won't be a movie, but a limited Disney+ series. Here's what we know about Marvel's Secret Invasion, and the details about the series sound so promising.
Nick Fury is low-key the most crucial character in the entire MCU enterprise. He is the glue that ties the early Phase 1 of the Infinity Saga together, the man who assembles the Avengers in the first place. The role requires both gravitas and swagger, a presence every Avenger will instantly respect with a bit of reverent awe. Samuel L. Jackson has played it with aplomb, appearing in 11 big-screen MCU films in The Infinity Saga and taking a guest turn in the first season of Agents of S.H.I.E.L.D. Giving the man his own TV series was merely Marvel finally putting some respect on his name.
But what is this series that puts Fury front and center? Let's run down everything known about Secret Invasion to date.
Nearly all titles from Marvel's Phases 1 through 4 are streaming on Disney+, save the Spider-Man films (on Amazon prime) and The Incredible Hulk (on HBO Max).
This article was originally published on