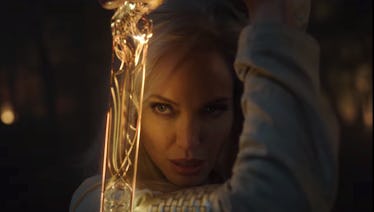 The New Eternals Trailer Introduces Marvel's First LGBTQ+ Family
Plus, we get a glimpse of the strongest Eternal.
Marvel Studios
The Marvel Cinematic Universe is a singular success story in movie-making history. No franchise in film history has ever created a series of 20+ interconnected movies in which every single one is a box office success. But with every new movie, the MCU faces the possibility of the first failure in this high-wire act. But that doesn't mean the company is playing it safe. In fact, the details about Marvel's upcoming movie Eternals indicate it represents a swing for the fences of such immense proportions, it will be a ~marvel~ to see the company pull it off.
But then again, Marvel turned a franchise with a sweary raccoon and a monologos tree into one of the most popular trilogies in the whole pantheon. Doubters, to the left.
So, what are the Eternals? Well, they're no weirder than the Guardians gang. This ensemble represents some of the most powerful creatures in the Marvel universe. They are timeless, ageless, immortal, and have seen a lot in their 7,000+ years on Earth. The Celestials created them as the original "Defenders of Earth." Perhaps proving their shared strange DNA, the Celestials previously turned up in the GOTG films. (Ego, Starlord's father, is one. Also, the city of Knowhere exists within the severed head of a deceased Celestial.)
Here's what we know about Eternals so far:
The Marvel Cinematic Universe's Infinity Saga (Phases 1-3) is currently streaming on Disney+, minus the Spider-Man and Hulk movies. All of MCU's Phase 4 is also available to stream.
This article was originally published on