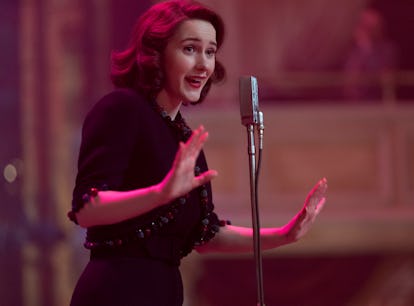 Mrs. Maisel's Final Season Will Have A Star-Studded Cast
It's going out with a bang.
Amazon Studios
When The Marvelous Mrs. Maisel originally debuted on Amazon Prime Video in 2017, it was the streaming service's first major breakout mainstream hit, nearly sweeping the Primetime Emmys for comedy. Since then, the series has been a staple of the streaming service, with the delayed Season 4 being one of its most anticipated premieres. However, all good things come to an end, and although the series has been renewed, The Marvelous Mrs. Maisel Season 5 will be its final season.
Unlike some series, Mrs. Maisel was not designed to go on forever. In fact, by the end of Season 2, fans were starting to notice the series was stuck in a bit of a rut by refusing to take Midge out of her New York comfort zone. Season 3 rectified that by putting Midge out on the road, taking her to Vegas and Miami. But the season ended with her getting fired and sent back home.
If the show is going to drive Midge toward success, she's eventually going to have to leave her people behind in a significant way, something the series has not been willing to do while there are more seasons to go. Putting an end date capper on Season 5's run of episodes affords the show a chance to take that leap and either end with Midge having found true success or giving it up to stay where she's happiest.
So what is known about Season 5 so far? Here's the breakdown.
The Marvelous Mrs. Maisel Season 5 Cast
Leading lady Rachel Brosnahan will return as Miriam "Midge" Maisel (née Weissman), with Alex Borstein as Susie Myerson, her manager, and BFF. Tony Shalhoub and Marin Hinkle will also be back as her parents, Abe and Rose Weissman.
And as much as fans are not fond of him, Joel Maisel will most likely keep hanging around, meaning Michael Zegen will return, along with Kevin Pollak and Caroline Aaron as Joel's parents, Moishe and Shirley Maisel. With any luck, Stephanie Hsu will return as Mei Lin, Joel's girlfriend, despite his father's insistence she converts. Also, considering how things ended with Midge and Lenny Bruce falling into each other's arms, Luke Kirby is guaranteed to return, as is Jane Lynch as Midge's nemesis, Sophie Lennon.
Several recurring characters will be promoted to the main cast for the final season. According to TVLine, Reid Scott (Veep), who plays late-night host Gordon Ford, has been upped to a series regular. Jason Ralph, who plays late-night booker Mike Carr (and is Rachel Brosnahan's real-life boyfriend), is also becoming a full-time player. Gilmore Girls alumni Kelly Bishop, who plays Benedetta, Rose's main rival in the matchmaking business, is coming back for another round. And Susie will get to keep her new assistant Dinah Rutledge, as Alfie Fuller will be back in a full-time capacity.
In new additions, several names fans will recognize are coming aboard, though TVLine did not disclose who will play what yet. They are Peter Friedman (Succession), Michael Cyril Creighton (Only Murders in the Building), Austin Basis (Beauty & the Beast), Josh Grisetti (The Knights of Prosperity), Eddie Kaye Thomas (This Is Us), Chloë Kerwin (Asleep in My Palm), and Lucas Kavner (The Jim Jefferies Show).
The Marvelous Mrs. Maisel Season 5 Filming Updates
With less than 24 hours to go before the Feb. 18 premiere of Season 4, Amazon announced Mrs. Maisel Season 5 is a go on Feb. 17 — but with the caveat that this season will be the show's last ride. Filming got underway almost immediately, with the cast spotted filming the final season in New York City the same day as the show premiered.
The Marvelous Mrs. Maisel Season 5 Plot Predictions
Season 4 saw Midge rise from the ashes of her lowest point at the end of Season 3. She landed a regular headlining gig at the Wolford, a Manhattan burlesque club, and improved the club's overall business deals. She confronted Shy for trying to burn her career and discovered he'd been trapped by management into the deepest recesses of the closet. She also ran into Lenny Bruce again, and though his addictions were clearly starting to get the better of him, they fell into bed together. As Season 4 concluded, Bruce began pushing Midge to stop self-sabotaging, and encouraged by his belief in her; she sets her sights on The Gordon Ford Show.
Season 5 promoting Reid Scott, who plays Ford to full-time status, suggests Midge may indeed land her dream job, or at least throw herself at it. As for her affair with Bruce, as much as it pains fans, chances are they won't stand the test of time, as she's on her way up and he's already on the way down.
The Marvelous Mrs. Maisel Season 5 Trailer & Release Date Predictions
The 2020 shutdown badly upended The Marvelous Mrs. Maisel's schedule. After three years of arriving just in time for Hanukkah, the show did not deliver a new season in 2020 or 2021. Season 4 debuted in February 2022. It's not clear with this renewal announcement if Amazon is hoping to get back on track and release a final season come December 2022, December 2023, or somewhere in between.
Either way, considering the official trailer for Season 4 didn't arrive until 10 days before the show's debut, there's little chance of any footage anytime soon.
The Marvel Mrs. Maisel Seasons 1 through 4 are streaming with all episodes on Amazon Prime Video. Season 5 is expected to arrive in either late 2022 or sometime in 2023.
This article was originally published on