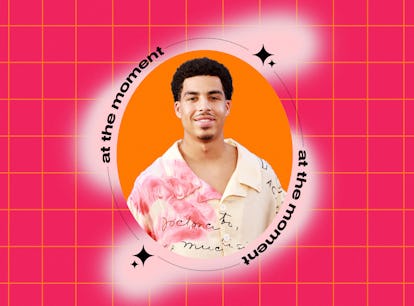 Marcus Scribner Is Saying Goodbye To Grown-Ish
Plus, the actor opens up about the cast's "unmatched chemistry."
Elite Daily; Matt Winkelmeyer/GA/The Hollywood Reporter via Getty Images
In Elite Daily's series At The Moment, celebs dish on their current projects, pop culture hot takes, and everything taking over their group chats. Below, Black-ish and Grown-ish star Marcus Scribner opens up about wrapping up his final season as Junior Johnson — plus, what he's most excited about, moving forward.
After 10 years of playing the same character, Marcus Scribner is ready to move on. The sixth and final season of Grown-ish starts airing June 28, marking the end of Scribner's journey as Junior Johnson, but the -Ish family isn't going anywhere. "They're people I'm going to be tight with forever," he tells Elite Daily. "When you're sitting on set 12-plus hours a day, you're either going to hate or love each other, and lucky for us, the latter is true. The chemistry is just unmatched." (They're so close, Scribner won't even name a favorite screen partner, insisting that doing so would get him "in a lot of trouble.")
For the most part, the cast — including Yara Shahidi, Luka Sabbat, and Amelie Zilber — has grown up together, just like their characters. The 23-year-old actor calls the whole experience "kind of a social experiment," especially when it came to playing a character so close to home, both literally (character and actor both grew up in Los Angeles) and figuratively. "I was actually the same age as Junior the entire time," he says. "It was weird seeing the choices and mistakes that he made and kind of judging him for it, and then making mistakes in my own life and realizing where he was coming from. We're both very, very nerdy and gullible."
Now that filming has wrapped, Scribner can appreciate the benefits of evolving on camera. "It's cool to have documented history of growing up. It's a lot like having home videos," he says — but that doesn't mean everyone in his life has appreciated the show's more graphic moments. "My grandmother was really excited to watch Grown-ish, but that moment when Yara walks in on me and Keila together... that turned her all the way off." (Fair.)
Luckily, Scribner's grandmother can bury that memory in his other projects. First up? Scribner's role in How to Blow Up a Pipeline, a 2022 action-thriller focusing on a group of climate activists who take drastic measures in protesting an oil pipeline. "It was transformational, stepping out of the sitcom world and learning something new," he says.
For Scribner, this film was just the start of everything that was to come. "I love everything the -Ish universe has done for me, but I'm excited to take new steps, and How to Blow Up a Pipeline was one of those steps." By approaching new characters, like Shawn in this film, he's getting back to the "stupid theater kid sh*t" (his words!) he finds most exciting. "My favorite part of my job is breaking down a story and a character and figuring out their motivations."
But there's still one season left of Grown-ish — one that Scribner promises will have "a lot of drama" and "love triangles galore." Below, Scribner shares his pop-culture favorites, including his career role models, comfort TV shows, and best life advice.
Elite Daily: What's your dream role?
Marcus Scribner: I want to be Batman. That's it.
ED: Who is your dream co-star?
MS: LaKeith Stanfield, Steven Yeun, Denzel Washington, Robert De Niro... The heavy hitters in the industry.
ED: Who was your first celeb crush?
MS: Rihanna or Jessica Alba.
ED: Who is your career role model? Why them?
MS: Donald Glover. But I also love Michael B. Jordan's career. That'd be sick if I just all of a sudden became the Sexiest Man of the Year.
ED: What's your comfort TV show?
MS: The Office or New Girl, but they're both kind of basic.
ED: What's the last show you watched in one sitting?
MS: Dopesick on Hulu. It was so sad. I had to re-watch The Office after as a little detox.
ED: What would you do if you weren't acting?
MS: I always said I would be a vet, but I think that that wasn't in the cards for me because I wasn't good at math or science. I think more of a lawyer would be the vibe because I like memorizing facts and sh*t. I don't know what it is, but I also love dentistry. I love going to the dentist. I'm a big flosser. A big brusher.
ED: What's your most surprising hobby?
MS: I was doing pottery for a while. I made some pretty fire bowls, but I was so bad at it. Like, dog water. One time, one of the wads of clay spun off the wheel and hit me in the chest, causing me to drop my bucket of water. It was horrible. It got me to stop doing it. But I liked it other than that scarring memory.
ED: Who was your favorite artist growing up?
MS: Drake.
ED: Favorite actor?
MS: Robert De Niro. I love mob movies.
ED: What's your favorite coming-of-age movie?
MS: I love Sixteen Candles. Except for the racism. I saw Lady Bird, too, for the first time recently, and really enjoyed that.
ED: What's the best piece of advice you've ever received?
MS: My dad telling me to have fun. Things are never going to go your way all the time. But if you can have fun, even when things aren't going your way, you're still going to be good.
This interview has been edited and condensed for clarity.