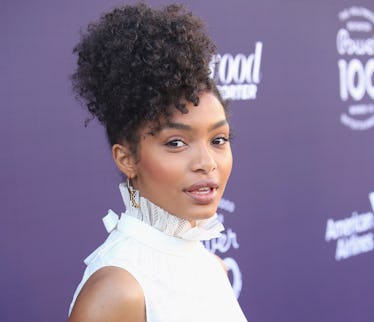 Yara Shahidi On How She Rebuilds Her Confidence In This Political Climate — EXCLUSIVE
Yara Shahidi isn't always confident. Despite being one of Hollywood's budding stars and starring in the upcoming Black-ish spinoff, Grown-ish, on Freeform, Shahidi has her moments of self-doubt just like anyone else. Shahidi spoke to Elite Daily about confidence — what it means to her, how she builds on it, and how she gets it back in times when it's lost — as part of her team-up with Always' #LikeAGirl campaign. And Yara Shahidi's advice to young girls about confidence is exactly what they need to hear right now, as it's rooted in self-care and introspection — two things that are vital when you're growing up in a society that feels like it's working against women.
Right off the bat when speaking with Shahidi, you get a sense that even at her young age (17), she knows she's aware of the responsibility she has as a role model for young women. She chooses her words carefully, but doesn't hold back when saying them. When asked about what confidence means to her, she tells Elite Daily, "It's something that I'm always striving for. And I know for me personally, there are times in which I feel like I am over-the-moon confident, and other times in which I realize I don't feel as though I own the space around me." She continues,
But confidence, for a lot of people, comes from being able to be comfortable in the space that you exist in, being able to be comfortable in the space that you take up. And oftentimes it's a highly political thing, whether people have made space for you or not, which is why internal confidence and self-assuredness, as well as a support network to tell you you are worthy of the space, is so important.
The support network that makes her feel worthy of her space is her close friends and family. She says, "I've been fortunate enough to find that [support system] in my family and in my friends and academic settings, but it really can come from anywhere." Part of why she believes the Always #LikeAGirl campaign is so vital is because it aims to make sure young girls know there's a space for them, and there are people working to make sure those spaces exist for them. She tells Elite Daily,
What I love about the #LikeAGirl campaign is just how necessary it is because given the current sociopolitical hemisphere, there's a lot happening in our world, which means oftentimes there is a group of people overlooked during these moments of chaos. And I feel like what #LikeAGirl does is it assures that we still pay attention, especially, young girls because while all of this is happening in our world, there are a lot of people who are hitting puberty for the first time, and there have been studies shown just about the confidence drop during puberty.
The Always #LikeAGirl campaign is responsible for those awesome ads encouraging young girls to smash the stereotypes about girls, like "you throw like a girl" or "you play like a girl," by reclaiming that narrative and turning it into something positive. Part of the campaign's mission statement says,
Join us on our mission to encourage girls everywhere to embrace failure as fuel to build confidence & Keep Going #LikeAGirl. At puberty, 50% of girls feel paralyzed by the fear of failure, with 80% of girls feeling that societal pressure to be perfect drives this fear of failure.* This leads to girls avoiding trying new things because they're too afraid to fail. But the truth is, failing is a good thing! It helps us learn, grow and ultimately build confidence.
Shahidi adds, "It's important to make sure that opportunities aren't lost because of a confidence drop or because we didn't take the time to invest our energy and support into this community as we should have." But what about those personal moments when her own confidence is low?
Shahidi tells Elite Daily she feels the most confident when she's got a good playlist going and she's surrounded by like-minded friends whom she loves and trusts. She adds, "I was just talking to a friend the other day about just how lucky I feel to be a part of a community that supports one another." But when she isn't feeling "over-the-moon confident," she tries to remind herself that even those feelings that seem like weakness are valid. It's all about finding the source of the feeling, acknowledging it and moving through it.
To rebuild her confidence when it's running low on steam, Shahidi tells Elite Daily, "I always try to analyze why I'm not feeling very confident. Is it something external? Like, 'Oh, something happened today and now I don't feel like I'm on my game.' Is it something internal I have to work on? And then just going from there. Because it really does stem from self-care, and also understanding that it's a part of the natural process." She adds,
I think that when I realize I'm not confident, it's oftentimes because I expect myself to be confident 100 percent of the time, which can be something that is a little scary to try and live up to versus kind of realizing that a part of life is not always feeling sure of yourself. I always try and understand, or at least process as best I can, in those moments that everybody goes through it and that I'm not alone in this experience.
In the current state of the world we live in, it's easy to feel like everything is working against you, like every day is going to come with more hardship, more bad news, more idiotic, baseless tweets. That's when it's most important to check in with ourselves to make sure that if the world isn't providing us with the safe space everyone needs to feel at ease, that we're creating it for ourselves. Shahidi's advice about this starts with self-care.
Confidence comes from being able to be comfortable in the space that you exist in, being able to be comfortable in the space that you take up.
She tells Elite Daily that having people in her life who understand what she's been through in the past and her life now is one of the things that keeps her going. One of those people who's able to do just that is her TV mom, Tracee Ellis Ross. The daughter of Iranian cinematographer Afshin Shahidi and actress Keri Shahidi, Shahidi says the biggest role model in her life is her mother. And Ross is one of those people she met later on whose life and experiences have "reaffirmed" the lessons she's learned from her parents. She tells Elite Daily,
I've been really fortunate to grow up in a fantastic family. I have grown up around amazing people of color on both sides — Iranian and black. And in terms of the women I've been surrounded by, I've been really fortunate to be surrounded by educators, and caretakers, and entrepreneurs, and astronauts, and deans, and students, and professors, and activists. I'm very fortunate to have such a solid foundation in terms of my family really normalizing the high bar that we've set for ourselves in terms of what can be expected of me, what my potential is, what my possibility is. And I think Tracee really reaffirms what I've learned at home and what I've learned in my coming up. It wasn't until I hit my teenage years that I realized that it was a 'non-normal' thing to expect the world of yourself and expect that you can achieve it. I really do not take it for granted.
She tells Elite Daily that for her character, Zoey Johnson of Black-ish and Grown-ish, (the eldest daughter of Anthony Anderson and Tracee Ellis Ross' characters), confidence is going to be put to the test on the premiere season of Grown-ish. Airing on Wednesday, Jan. 3, on Freeform, Shahidi says going off to college is going to shake the foundation of everything Zoey thinks she knows. She tells Elite Daily,
Moving on to this next adventure of Grown-ish, everything for her is uncertain, which is a first for Zoey Johnson. And as powerful as I find her confidence, I felt those moments are even more powerful. She thinks she should have everything handled, and now she doesn't. I think those moments spoke to me even more in terms of being able to relate to her.
It sounds like Zoey Johnson could really use a confidence boost. And Shahidi says while she understands that her confidence is always going to have its ups and downs, she still gets down on herself a bit when she's not on her A game. She tells Elite Daily, "Quite honestly, I don't like to feel anything other than happy, which I think most people can relate to." She adds,
I realized at times I'll be mad at myself for feeling angry, or I'll get sad because I am sad. But I'll be angry at myself for feeling these other emotions. A lot of [my self-care] is through reading because through learning about other people's' stories, I realize this is just a natural human process. And rather than saying that it is blocking me from growing, I allow it to kind of just help with my growth.
You can catch Grown-ish during its two-episode series premiere at 8 p.m. ET on Wednesday, Jan. 3, on Freeform.