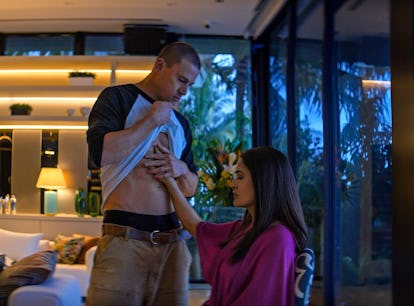 The Magic Mike 3 Trailer Takes Channing Tatum's Talents Global
Consider this your date for Valentine's Day 2023.
Warner Bros.
Since the debut of Magic Mike a decade ago in 2012, Channing Tatum has been quietly building a trilogy featuring himself as Mike Lane, a male stripper who dreams of bigger and better stages. The sequel, Magic Mike XXL, followed in 2015, but it wasn't until November 2021 that Tatum dropped the unexpected announcement that a third Magic Mike movie was in the works. With the trailer now out, it's time to buckle up for another wild ride, because Magic Mike's Last Dance sounds like it will be the grand finale of a steamy trilogy.
Much has changed since Tatum's announcement. At the time, the threequel was not going to follow its predecessors into theaters but rather would be released exclusively on HBO Max sometime in 2022. However, that was under the old regime, when Warner Bros. Pictures and HBO Max were under the ownership of AT&T. AT&T bought out the company in 2018, doing away with much of the original Time Warner regime that produced the first two films, and were laser-focused on turning HBO Max into a Disney+ sized competition, making films explicitly for the streaming service.
However, since then, WarnerMedia has been sold again and is now under the ownership of Discovery Communications. The new owners went all in on theatrical releases, canceling movies and TV series meant to be HBO Max exclusives right and left. Magic Mike's Last Dance thankfully survived; even better, it will now be a big-budget release in theaters just in time for Valentine's Day.
Magic Mike's Last Dance Trailer
The trailer for Magic Mike's Last Dance arrived on Nov. 15, 2022, almost exactly a year after Tatum's original announcement. In it, audiences discover Mike Lane has a new reason to get up and start shaking his money maker, and it's Salma Hayek.
Magic Mike's Last Dance Cast
At the time of the movie's announcement, only Tatum was confirmed for Magic Mike's Last Dance. Audiences hoped that Joe Manganiello, Matt Bomer, or Adam Rodriguez might reprise their roles as Mike's stripper buddies. But the trailer indicates otherwise.
Instead, Mike will be inspired to return to the stage by a character played by Salma Hayek. She's had her dreams shattered before and sees Mike as the man she needs to create the performance she envisions. Gavin Spokes (House of the Dragon) and Ayub Khan-Din (London Bridge) also co-star.
Tatum and Hayek are joined by a new cast of up-and-comers, dancers who will help bring their vision to life. They include Caitlin Gerard (The Last Ship), Christopher Bencomo (Monster: The Jeffrey Dahmer Story), and Juliette Motamed (We Are Lady Parts).
Get The Elite Daily Newsletter
You deserve emails that are actually fun — full of juicy celeb intel, astrology, helpful dating advice, and much more. Luckily, our newsletter will bring you all of that, well, daily.
Magic Mike's Last Dance Plot
The original Magic Mike retired Mike Lane from stripping, but his old buddies brought him back on stage for what was thought to be one final performance in Magic Mike XXL. That wasn't Mike's actual last dance, though, since the new movie's title implies Mike is going to bust out his stripper moves once more. From the trailer, it looks like Mike might be as much a principal dancer as he is a choreographer for this outing.
There's no synopsis for the film, but director Steven Soderbergh told Variety the touring stage production Magic Mike Live influenced the new film: "The movie is sort of a fictionalized procedural on how Mike comes up with the idea of a show and then the obstacles, of which there are many, to trying to realize his vision of what this new thing could be."
Magic Mike's Last Dance Filming Updates
As part of Tatum's original announcement for Magic Mike's Last Dance, he shared that the final film would be written by Reid Carolin, who wrote both the original Magic Mike and its 2015 sequel. The final chapter sees the return of director Steven Soderbergh, who helmed the first movie before turning the franchise over to Gregory Jacobs for Magic Mike XXL.
Filming began in April 2022, after original lead Thandiwe Newton had to exit the project and Hayek stepped in. Filming wrapped that summer, followed by the announcement that Soderbergh is looking to expand the franchise with spinoffs.
Magic Mike's Last Dance Premiere Date
Magic Mike's Last Dance will premiere exclusively in theaters on Friday, Feb. 10, 2023. Magic Mike and Magic Mike XXL are streaming on HBO Max.
This article was originally published on