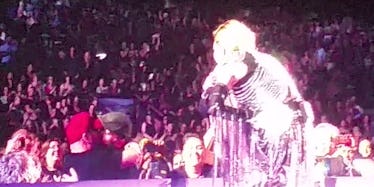 Madonna Actually Stopped Her Concert And Helped A Couple Get Engaged (Video)
If you really think about it, a Madonna concert may be the perfect place to get engaged.
The lights are dim (that's intimate, right?), the atmosphere is poppin', there's great music and there are people. Plus, you'd be sharing this monumental experience with Madonna. What could be better than that?
Well, couple Jan and Chad actually got to live my little fantasy when Madonna convinced them to get engaged at one of her concerts. During her performance on October 11 in Edmonton, Canada, Madonna demanded one of them actually propose on the spot.
So, one of them did. Jan screamed into the mic,
I love you... Chad. Will you marry me please?
Did Chad say yes? Did this have a happy ending? WAS THIS THE GREATEST MADONNA CONCERT OF THEIR LIVES?
Check out the full clip in the video above to find out!
Citations: Madonna convinces couple to get engaged at her concert (Mashable)