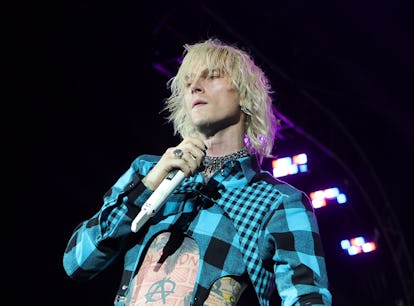 MGK Has Declared War On Jack Harlow In A New Diss Track
We've got a new rap beef, y'all.
Ethan Miller/Getty Images Entertainment/Getty Images
One of the things that makes rap so exciting is its long history of vicious feuds. And now, a new rivalry is taking center stage, courtesy of Machine Gun Kelly. The rapper dropped a surprise freestyle with some pretty choice lyrics about Jack Harlow, which seemed to be a direct response to the buzziest lyric off Harlow's new album Jackman. The two musicians used to be close, but apparently, they're beefing now.
The whole thing started when Harlow's new single "They Don't Love It" dropped with his album Jackman on April 28. The song gained significant attention for one verse, in which Harlow claims he's the best white rapper since Eminem: "The hardest white boy since the one who rapped about vomit and sweaters / And hold the comments 'cause I promise you I'm honestly better / Than whoever came to your head right then."
The bold proclamation obviously led to tons of discourse, and it apparently did not sit well with MGK. A week after Harlow's album dropped, MGK uploaded a freestyle over the beat of Jay-Z's 2001 track "Renegade," which featured Eminem. Notably, MGK has a long-standing feud with Eminem, which may have prompted his incensed response even more. The freestyle included several jabs at Harlow, mainly accusing him of copying Drake's style:
"Make sure there's no confusions / I'm a great white, I can eat these barracudas… / I see why they call you Jackman / You jacked man's whole swag / Give Drake his flow back, man."
Harlow's laid-back sound and flirtatious public image have often been compared to Drake, especially after the two became nearly inseparable after collaborating on their 2022 song "Churchill Downs."
MGK's diss track does come as a bit of a surprise, though, considering he's been buddy-buddy with Harlow in the past. In 2020, MGK freestyled over the beat of Harlow's track "What's Poppin'," and the video began with a friendly FaceTime call between the two.
So far, the feud is one-sided. Fans of the hip-hop drama will have to wait to see if Harlow reponds to the diss track and turns this into a real rap beef.