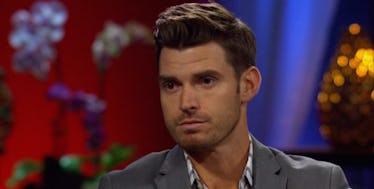 If Luke Pell Isn't The Next 'Bachelor' We're All Going To Seriously Lose It
ABC
Chris Harrison, take a goddamn seat.
You've pissed off a lot of people lately, and we need to talk about it. Now.
I'm an avid watcher of "The Bachelor" and "The Bachelorette," meaning I watch each season 'til the end and cry my eyes out when it's over. It's just so beautiful, OK?!
The finale is typically followed by the "After The Final Rose" special, where Chris Harrison (LISTEN UP, PAL) talks to the happy couple about their life after the proposal.
Then, at the very end of the special, Chris reveals which contestant from the season will become the next Bachelor or Bachelorette.
It's the only flipping reason people sit through the three-hour finale. WE JUST WANT TO FIND OUT WHOSE JOURNEY IS NEXT.
So, after JoJo Fletcher and Jordan Rodgers made their first public appearance as a couple, fans eagerly waited for Chris Harrison to announce which man from her season would be the next Bachelor.
But he never did!
WTF, CHRIS?
If you watched this past season, you know Luke Pell was the fan-favorite. If you liked Chase more, then look away. This article is about Luke and how he must have my babies.
So, Chris Harrison, if you're out there and reading this, let me just tell you why Luke Pell needs to be the next Bachelor, or else.
For starters, um, there's this.
Yup, I think those muscles are enough of a reason to cast this man again. Holy shit.
Jesus Christ, there is a god.
And his name is Luke. And I am dead.
*bites lip*
*rips off shirt*
*gets completely naked and cries*
*STOPS BREATHING*
*GOES UNCONSCIOUS*
SOMEONE CALL THE FUCKING HOSPITAL.
GIVE THIS MAN A ROSE FIRST, THEN CALL THE HOSPITAL.
MOVE, JORDAN. THIS ISN'T ABOUT YOU.
Wow, yup, that's better. Lukey baby, you can save me any day ;).
Cool, well, I'm gonna go stare at these in private. Chris Harrison, you know what to do.
God bless you, Luke.