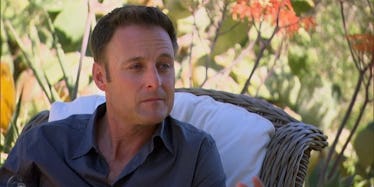 Fans Of 'The Bachelorette' Are Furious With Chris Harrison For This One Reason
ABC
Hey Chris Harrison, you've got some explaining to do.
On Monday night, fans of "The Bachelorette" gathered around their TV screens to watch JoJo Fletcher make the most important decision of her life.
The 25-year-old from Dallas, Texas had to pick between Jordan Rodgers and Robby Hayes.
There were two men left standing, but only one rose to give. OOOH, DRAMA.
So who did JoJo end up picking? I'm not going to post any spoilers here, but if you're curious, we've got you covered.
Fans were pretty divided over JoJo's choice, but we won't get into that now. There are bigger issues to discuss. Like the fact that everyone is pissed at Chris Harrison.
Yup, the man messed up. Big time.
After the finale finished, fans stayed tuned to watch the "After The Final Rose" special to see JoJo and her fiancé for the first time in public.
But that wasn't the only reason people were watching. Typically, Chris Harrison announces which contestant will be the next "Bachelor" after the finale airs.
But this time, he didn't.
After waiting THREE FULL HOURS, fans were furious at "The Bachelorette" host for not announcing which suitor would start his own journey to find love.
Chris Harrison, ARE YOU SERIOUS?
HOW COULD YOU DO THIS TO US?!
Or don't tell me ....... #TheBachelorette — Nikole Dye (@gingerdancer99) August 2, 2016
The man better announce who the next "Bachelor" is soon, or else I'm gonna show up at the mansion and give him a piece of my mind.
I'm serious, Harrison. I'm warning you.