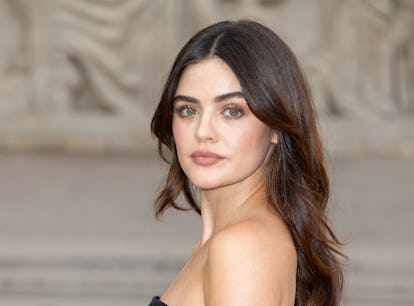 Lucy Hale Opened Up About Why She's Been Celibate For Years
"Being sexual, it's still a little uncomfortable for me."
Lucy Hale made a major lifestyle change a couple years ago. The Pretty Little Liars star revealed that when she got sober, she also decided to stop having sex. Hale reflected on how she used to use sex as a way to get "validation from men" when she was drinking, but has now realized it's just not enjoyable for her to connect with people in that way anymore.
Hale spoke about how her past alcoholism also affected her sex drive during her Nov. 1 appearance on the Call Her Daddy podcast. "For so much of my life, I found I would fill this empty well within myself with validation from men," Hale said. "I was like, 'If I sleep with them, I'll get this validation.' And then I'm OK. And then I feel worthy for a week. And then I need to do it again. It was just a habit I picked up very, very early on."
She went on to reveal that once she quit drinking in 2021, she realized she also didn't feel the urge to have sex as frequently. "Sex drunk is not enjoyable. Sex with strangers is not enjoyable. Point blank. That's just the truth," Hale said. "That's why the last two years — I was celibate for a lot of it — I've been feeling comfortable in my skin and learning to love my body in new ways."
"Being sexual, it's still a little uncomfortable for me," Hale added. "Not everyone deserves to touch your body, you know?"
Though she's had brief flings in recent years — like her brief reported romance with Skeet Ulrich in 2021 and some rumored dates with Matt Rife earlier this year — Hale said she hasn't actually had a serious relationship in six years. "I've not had a relationship really since I've been sober," Hale said, revealing that her last relationship "ended because of my behavior."
She also reflected on how her drinking affected her earlier dating life. She said her first boyfriend would tell her she had a drinking problem, and when her next boyfriend brought up his concerns with her drinking, she dumped him rather than address it head-on.
Hale also recalled one relationship in which her partner encouraged her to give into her addiction issues. This boyfriend introduced her to drugs, and Hale would day-drink with him, she said. Despite this being her "most toxic" relationship, Hale admitted she also still has strong feelings for this ex. "I'm equal parts terrified of him and deeply attracted to him," Hale said.
Hale began to recognize her issues when she was working on Pretty Little Liars. "I didn't realize I had a problem until my early 20s. I went to rehab when I was 23," Hale said. "I don't think anyone on the show knew. And it was my choice, too."
It wasn't until 2021 when Hale was finally able to kick her habits and get sober. She credited the pandemic as being a big part of that, since it prevented her from going out to social events where she would usually drink.