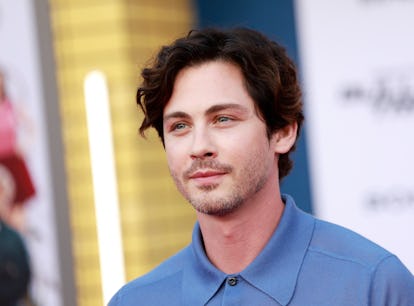 Logan Lerman Just Completely Shut Down Those Poseidon Fan Castings
Sorry, Percy Jackson fans.
MICHAEL TRAN/AFP/Getty Images
Logan Lerman hit Percy Jackson fans with a tidal wave of disappointment. Ever since the new Disney+ series adapted Rick Riordan's fantasy novels was announced, fans have clamored for Lerman to play god of the sea Poseidon. In the eyes of franchise devotees, the role would be the perfect way for Lerman to reenter the Percy Jackson universe, but he himself doesn't see it the same way. In a recent interview, Lerman shut down the possibility of playing Poseidon in the new Percy Jackson series.
Percy Jackson fans have been very hopeful that the new show could see Lerman pick up the trident to play the father of the title role. The actor famously starred in the fantasy novels' previous adaptations, playing the lead character in 2010's Percy Jackson and the Lightning Thief and 2013's Percy Jackson: Sea of Monsters. Now, Walker Scobell is taking over the part of the demigod hero in the new Disney+ series, but diehards have been holding out hope Lerman could return as Poseidon, the father of the character he played over a decade ago. It would be a very satisfying nod to the fandom, as well as a way to tie the new series to the previous movies.
Notably, at the start of 2023, Disney+ had announced pretty much every major character in the Percy Jackson series but had yet to reveal who will play Poseidon. Fans took that as a possible sign that a Lerman announcement could be on the horizon, but the actor shut down all speculation in a Jan. 12 interview with Esquire.
"No one's hit me up about it, and I don't think I'm right for that anyways," Lerman said, when asked about playing Poseidon. "I also just don't even know if it's interesting to me, in terms of: I don't even know what that would be. But there's not a secret that's waiting to be announced or something like that. I do get asked a lot about it, and I hate to disappoint and be like, no, I don't know anything, and I'm not involved, but that's the truth. I don't know anything about it."
Lerman went on to say he thinks he's too young to take on the godly role at this time. "I get people asking me all the time if I'm gonna play Poseidon, and I'm like, am I old enough to play Poseidon? I don't think I'm old enough for that one," he said. "I wouldn't cast me in that role if I was part of the creative team."
So, it sounds like Percy Jackson fans will just have to blame bad timing for not getting to see Lerman as Poseidon. Percy Jackson and the Olympians is scheduled to premiere on Disney+ in 2024.