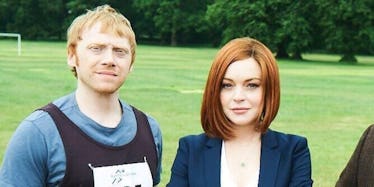 Lindsay Lohan Is Starring In A TV Comedy With Ron Weasley And Fans Are Losing It
Sky1
Nobody jinx it, but Lindsay Lohan may actually pull off a comeback, with the help of Harry Potter's Rupert Grint and Hot Fuzz's Nick Frost.
It might be too soon to officially dub it a comeback, but Lohan is — as she happily pointed out on both Instagram and Twitter — "back on set" for the production of a new British TV comedy, Sick Note.
According to a report from Deadline, the first season of Sick Note will air on the British network Sky 1 this fall. The show was created by Nat Saunders and James Serafinowicz.
Lohan is not in the first season, but will be joining cast members Grint, Frost, and Don Johnson for Season 2.
The first season of the show follows Grint (aka Ron Weasley), who gets wrongly diagnosed with a terminal illness by his kooky doctor, played by Frost. Frost convinces Grint to lie to everyone in his life about the illness. Shenanigans ensue.
Again, Lohan will not be in the first season, which will consist of six episodes airing this fall.
She'll come in Season 2, in the role of Katerina West, the daughter of Grint's boss. (Grint works at a dead-end insurance job with his crazy boss, played by Don Johnson.)
So no, despite their shared ginger hair color, it doesn't sound like Lohan and Grint will be related. Cue the entire Weasley family breathing a sigh of relief.
Despite occasionally guest-starring on shows such as Ugly Betty and 2 Broke Girls, it's been more than a decade since Lohan has landed a solid gig like this one. Her last big role was arguably Herbie Fully Loaded in 2005.
We all know it's been a tough decade for Lohan, and fans on Twitter were overjoyed to hear the news of her potential comeback.
I truly hope that Sick Note will be a comeback for Lohan. Maybe then she can finally stop lobbying for those Freaky Friday and Herbie remakes.